With the calendar officially flipping to fall and the temps outside (finally!) dropping, I've been excitedly swapping out my bright summer décor for some autumn-inspired accessories! My house's year-round design includes lots of cool tones and bright accents, so bringing in the traditional Fall hues never really quite works. This year, I'm toning down the bright and warming things up by simply exchanging some of my shiny metals and pops of color for wood-tones and metallic accessories. Instead of running out to the store to see what I could find, I dug through my "stash" to see what could be re-purposed! With just a few supplies from the hardware store, I turned an old frame into a beautiful and functional wood-and-acrylic tray, perfect for corralling all sorts of home décor accessories any time of the year!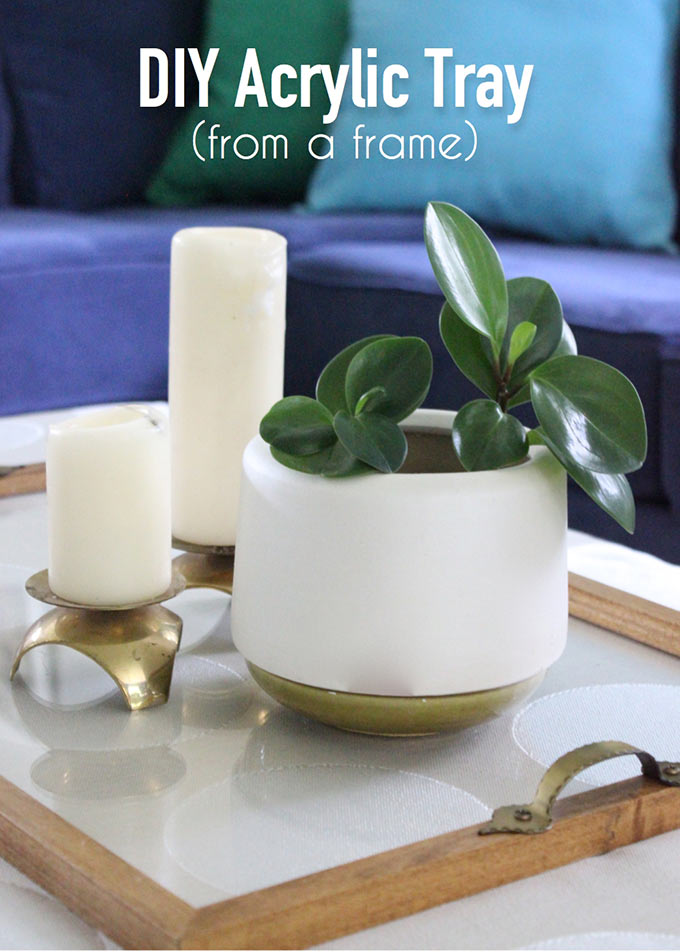 This project is relatively quick and simple; although it may require some arm strength! Here's what you need!
A wood frame in your preferred color and size. My frame is actually an old cabinet door with the glass pane removed.
Plexiglass, the thicker the stronger! A sheet can be purchased at any home improvement store and cut down to size at home.
Plexiglass cutting tool. This handy little tool is typically found right next to the plexiglass and makes cutting the acrylic yourself pretty easy!
Gorilla Glue Super Glue. Be sure to get the kind that is super tough but does NOT expand!
Brass pulls that (ideally) screw it from the top (rather than underneath).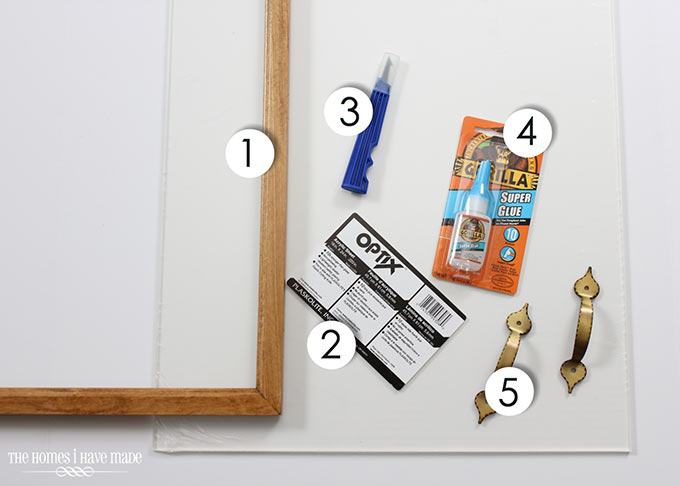 A quick note about the plexiglass. I bought a sheet of 0.22" thick plexiglass. Not only does this thickness provide a super-stable, non-breakable, non-bendable surface, but it was also the exact depth I needed to fit into the groove of my frame. When selecting your frame and/or plexiglass, keep in mind how the two will fit together to create a smooth bottom surface!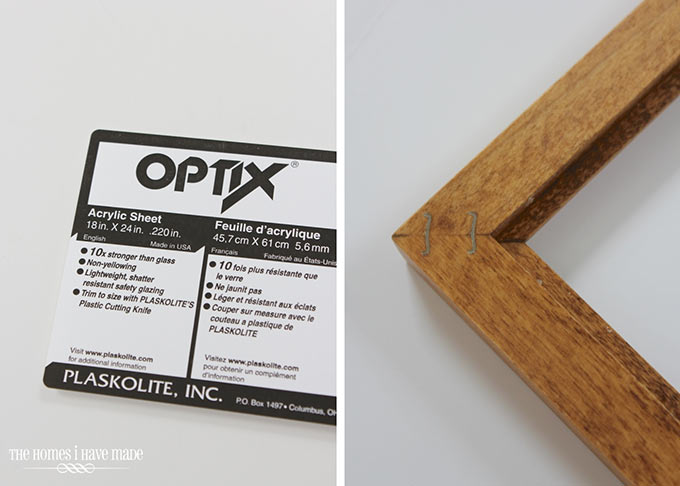 Start by measuring the internal dimensions of the under-side of the frame where the plexiglass will sit. Plexiglass isn't super easy to cut (and can be a little pricey), so do yourself a favor and measure twice before cutting! Once you have your measurements in hand, cut down the acrylic sheet with the cutting tool and a straight edge (I used a quilting ruler). Depending on the sharpness of your tool and the strength in your hand/arm, this might require a bit of effort. Continue scoring your line over and over and over again until you create a decent groove in the acrylic sheet. Then, flip it over and continue scoring the line from the other side. This will be messy and take some time! Once you've cut deep enough, you should be able to snap the two sections apart down the scored line with a very clean break.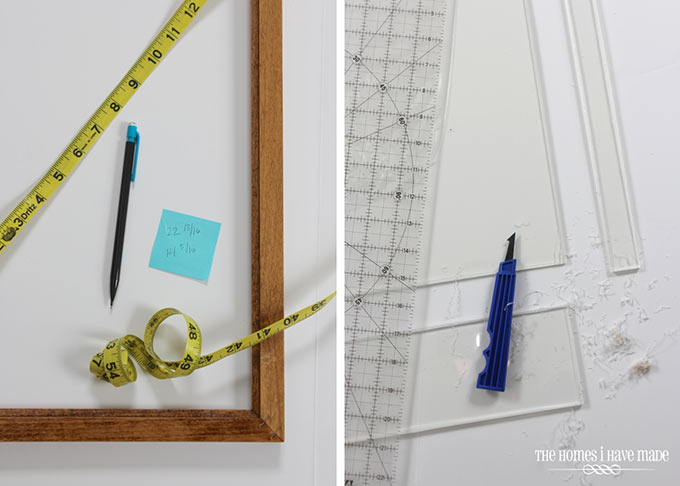 With the plexiglass cut down to size, use the Gorilla Glue Super Glue to secure it to the inside lip of the frame. Follow the glue's instructions by placing a dot of glue every 1" or so. Firmly press the plexiglass into place for 30 seconds and then let it cure for 24 hours before handling. I placed some heavy pitchers on mine to provide some weight while it cured.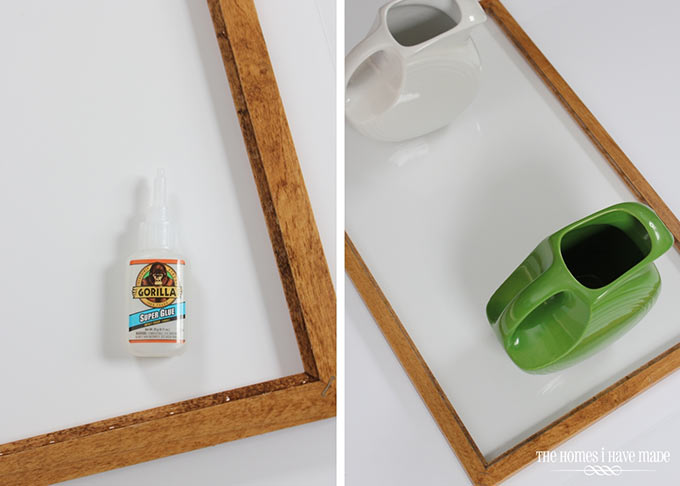 Once the plexiglass is fully cured into place, attached brass pulls on either end of the frame, using an electric screwdriver and the provided screws.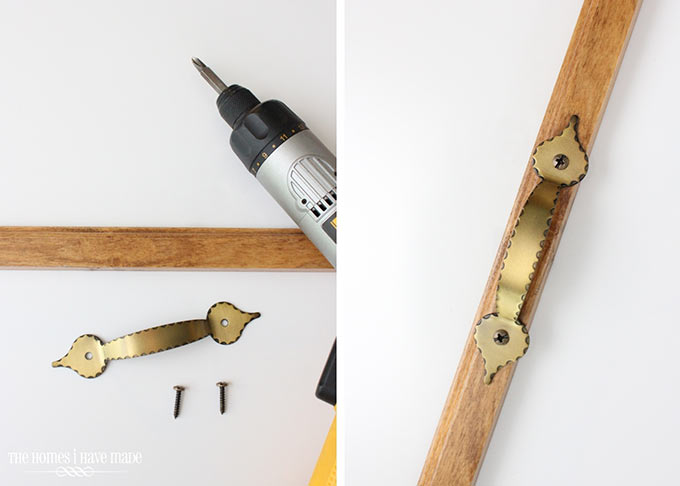 And that's it! Clean up the acrylic with some spray cleaner, and you're ready to get styling!
This is really a quick and fun way to make a super stylish tray! I love the modern and clean look of the clear acrylic, but you could also use a sheet of stained, painted, or stenciled wood for the base of the tray instead! One of my favorite things about the clear, though? I can easily add a sheet of fun patterned paper to the underside of the tray to change its look based on my mood or the season!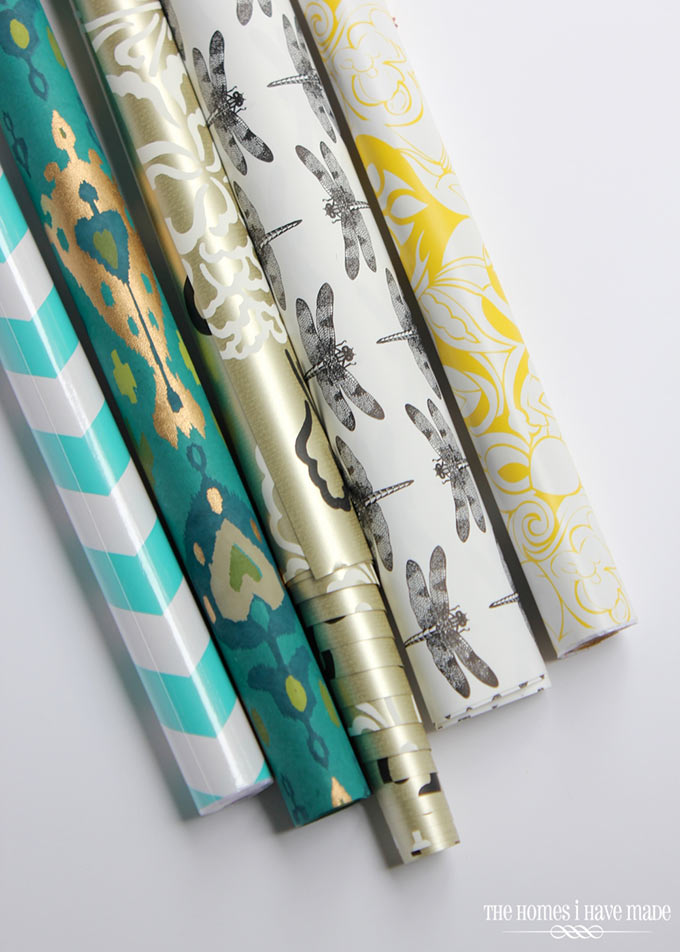 There's nothing fancy going on here, I just adhered some wrapping paper (face up) to the bottom side of the tray with some scotch tape, and then got busy with accessorizing! First I tried a fun pop of yellow: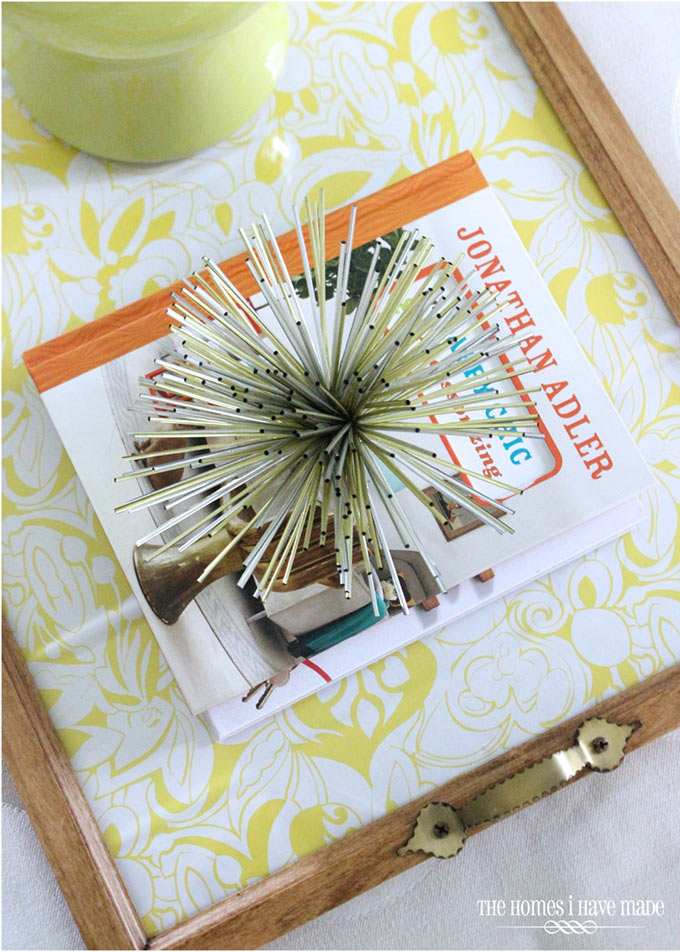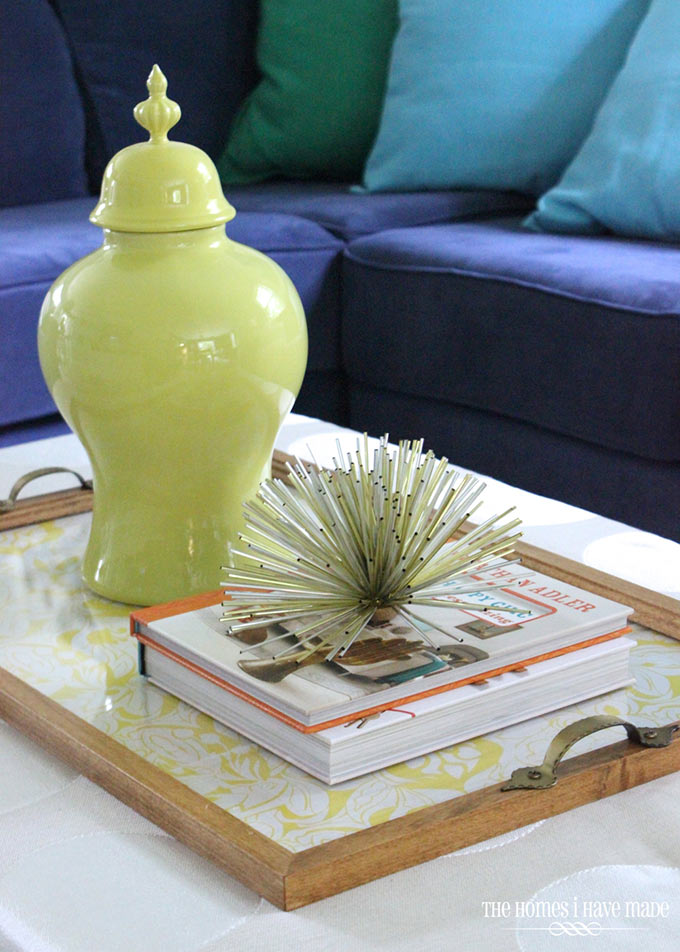 Then I tried out a more subdued teal and gold theme: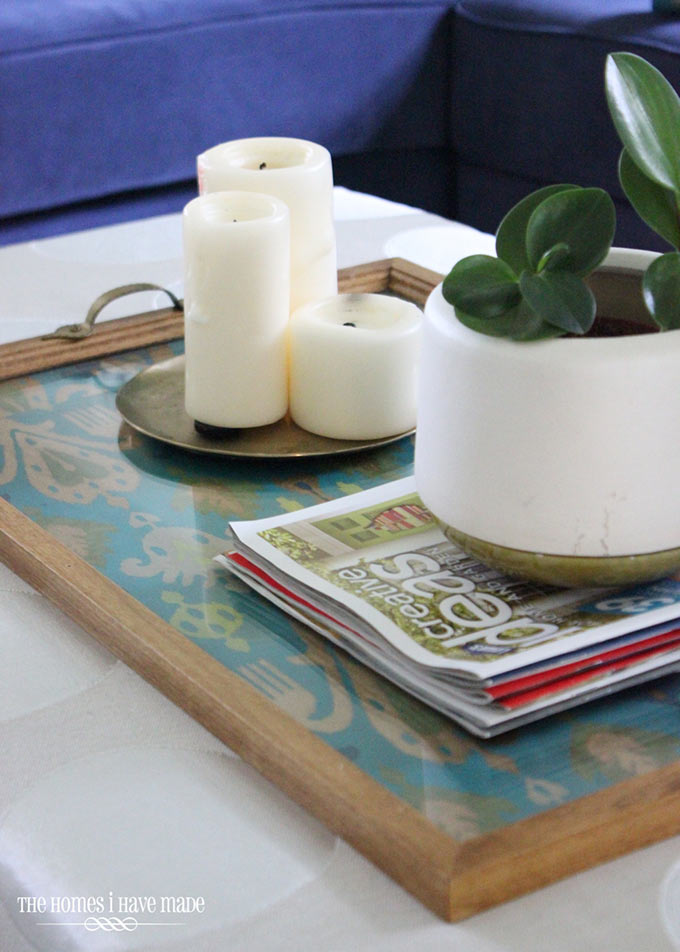 As I said, you can use almost anything for the bottom of the tray, but by using a clear plexiglass sheet, you can swap out the look for almost any season or occasion! Now that's one versatile accessory!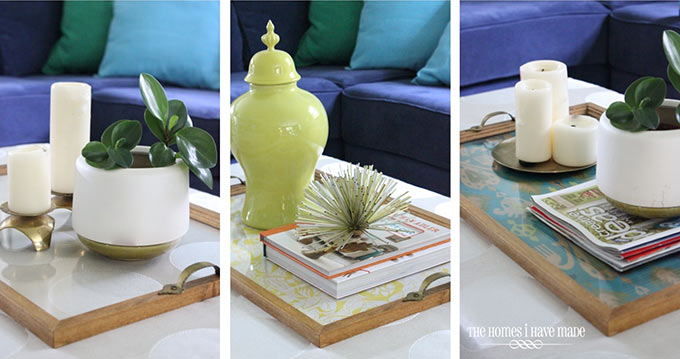 I am completely smitten with this new accessory for our coffee table/ottoman. I took something collecting dust out in the garage and re-purposed it into something useful and oh-so-chic. I suspect this tray might be a longer-lasting addition to our living room than just for the Fall-Winter months!