I love cookies – wish I didn't, but I do. I like them a particular way, however – course, a little sweet, chewy, and full of stuff. I went through a particularly long stretch of trying to make a "healthy" cookie that wasn't full of sugar, but I have to admit, they were not that good. I tried, without success, to ignore the fat to sugar ratio that created the texture I was after. It is science – baking – after all.
I have taken a new approach that allows for a ton of tweaking but still produces a truly great cookie every time. There is a basic foundation on which you can build to suit your particular taste, or simply to use what you actually have in the house.
Here's the thing, though. I make cookies to feed to my children and what I feed them is wildly important to me – I know I am not alone. I want their treats to be food too. I feel like school lunch treats should  nourish them and provide them with real energy. They don't notice that these are packed with nutrition. They just love them.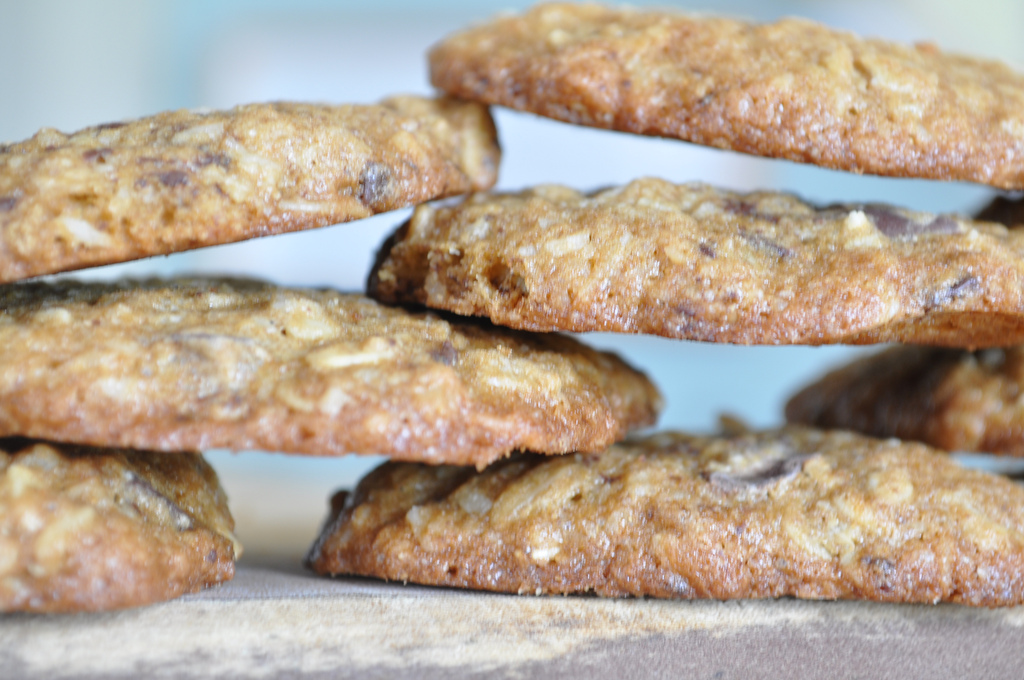 This batch is made with butter, whole wheat flour, chocolate chips, 1 cup of oatmeal, and ½ cup coconut  – perfect!
Nicole's Cupboard Cookies

Ingredients
1 cup whole wheat pastry flour (or combination of flours – up to a ½ cup can be substituted with cocoa or almond meal, though they will be a little more delicate).
½ teaspoon baking soda
½ teaspoon sea salt or kosher salt
½ cup unsalted butter or coconut oil, room temperature
¾ cup of sugar
1 Tablespoon molasses (adding molasses makes up for not using brown sugar, which you don't need to buy anymore if you have a bottle of molasses around – seriously)
1 large egg, room temperature
½ teaspoon vanilla
cupboard add ins:  chocolate chips, up to a cup of oats, coconut, cocoa (replace up to half the flour 1:1), chopped nuts, raisins, dried fruit, etc. 
Directions
Preheat the oven to 375 degrees and line your sheet pans with parchment, a Silpat, or, if it well seasoned just leave it as is.
1) Cream the butter and sugars (including molasses) together so they are light and fluffy, then add the egg and beat until well blended. Stir in vanilla.
2) Combine flours, cocoa (if using), soda, and salt in a bowl and then stir it into the butter mixture.
3) Stir in chocolate chips (the amount depends on how chocolaty you like your cookies), oats, coconut, nuts, seeds, raisins, or whatever you are adding. Any combination you like will work. If I'm adding a lot of things, I start with about ½ cup of each and then add more of something if the dough seems willing to hold it. Obviously, you want it to look like a dough before you spoon it onto the sheet pan, and not be falling apart.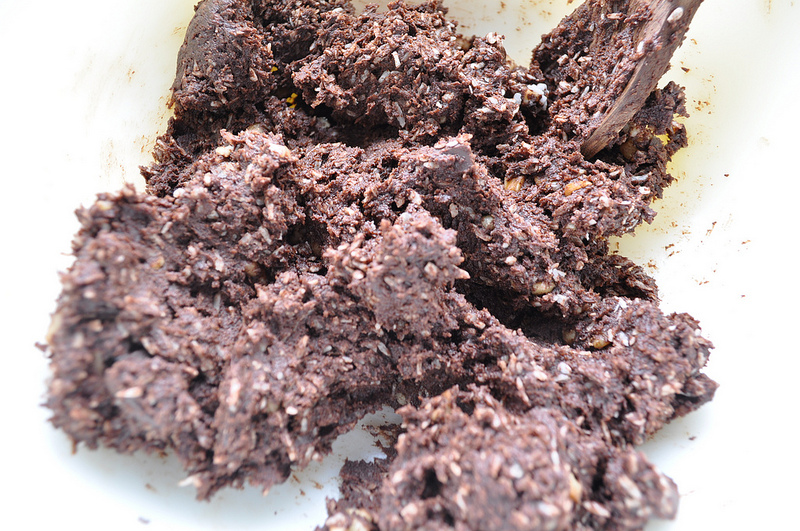 This batch has coconut oil, 1/2 cup whole wheat flour, 1/2 cup cocoa powder, 1 cup of coconut, and a 1/2 cup each of walnuts and chocolate chips – they are like brownie cookies that might not fall entirely under the nutrient packed category, but with some more nuts and oatmeal they would! I can tell by looking at this dough that it could hold more cupboard additions.
4) I like to use a melon ball sized lump, which I flatten with the palm of my hand before baking. Space them about 1" apart and bake for 8-10 minutes. They should just be turning golden brown and be a bit soft in the center. Cool on a rack.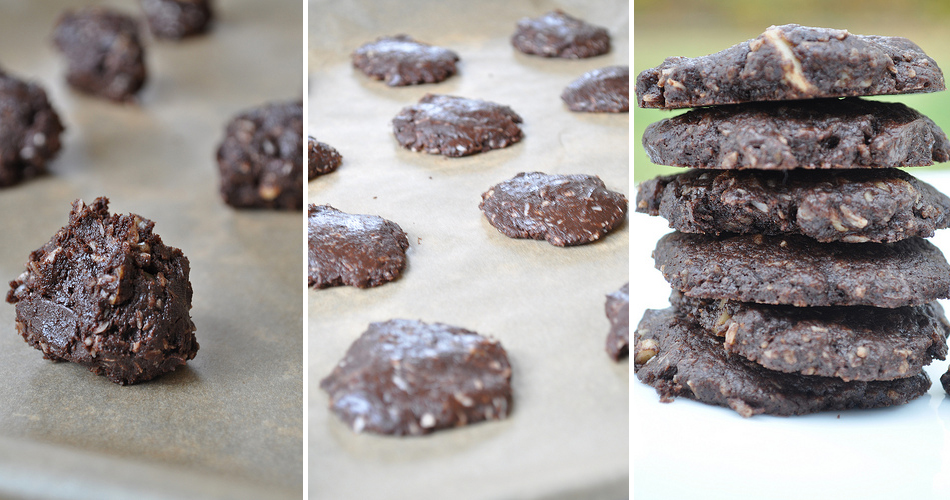 Double chocolate with walnuts and coconut
What special ingredients do you like in your cookies? Share in the comments section below!