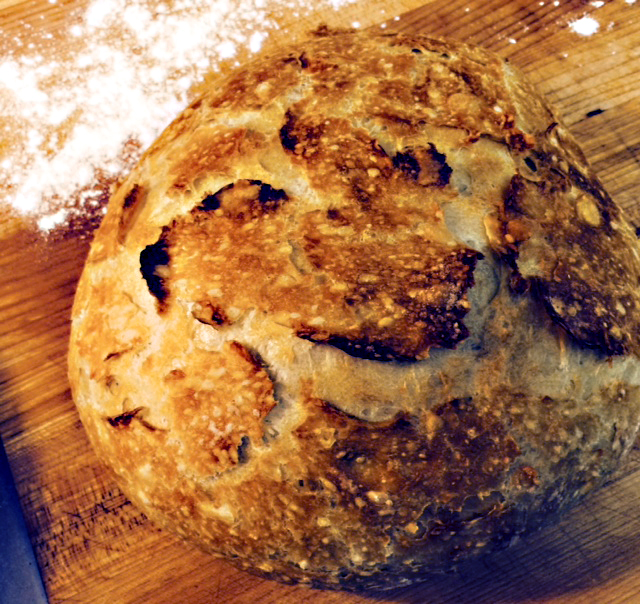 Everyone loves fresh-baked bread, but who has the patience to make it? My recipe for no-knead bread is so easy and painless that I make it during the week! Let me tell you, there's nothing better than the smell of freshly baked bread filling your house on a weeknight. Try it for yourself. I promise you won't be disappointed! All you need is a little time on your hands and you will have the most delicious, chewy, homemade bread at home!
CRUNCHY, CHEWY, NO-KNEAD BREAD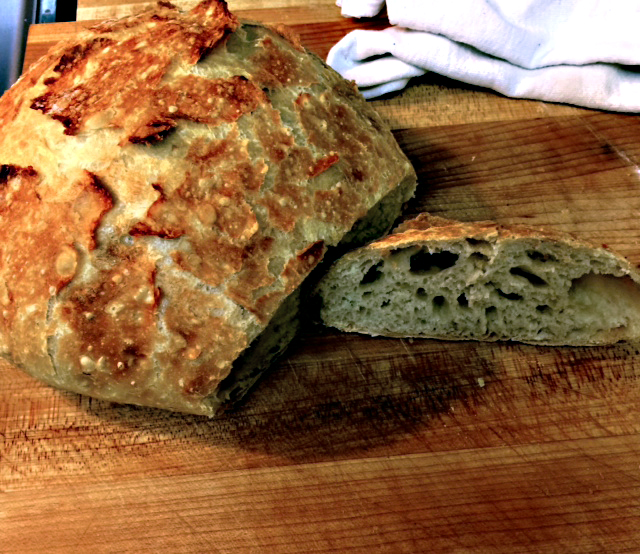 **Give yourself at least 12 hours to make this bread**
3 cups bread flour
1 teaspoon fast acting yeast
2 teaspoons salt
2 cups water
Large pot or Dutch oven with lid
In a large bowl, mix together bread flour, yeast and salt. Slowly add in the 2 cups of water and mix until the dough comes together. You may need more water if there is dry flour left in the bowl. Remember that making bread is an art. You need to listen to what the bread is telling you- if it's too dry add more water, if it's too wet add more flour. A lot of factors can affect your dough including weather, humidity, and heat.  Cover your bowl with plastic wrap and let the dough sit for at least 12 hours. I often let mine sit for almost 18 hours, and I think it contributes to a better tasting bread.
When the dough is ready, add a large Dutch oven or stainless steel pot to your oven, and heat to 450F. While your oven is heating, dump your dough onto a heavily floured surface, and add more flour to dust the top. Carefully shape the dough into a ball, tucking the edges under to make it smooth. Be sure not to pop any of the bubbles. Cover the dough with plastic wrap. Once the oven has preheat, allow it to heat the pot for another 30 minutes.
Uncover the dough and reshape, if needed. Pull the hot pot from the oven and drop the dough into it. No need for greasing the pot! Cover the pot with the lid and return to the oven. Bake for 30 minutes without disturbing. Remove the lid from the pot and continue to cook for 15-20 minutes or until dark, golden brown.
Remove the dough from the oven and allow to cool on a wire rack. I recommend waiting to cut into the bread because it will keep the steam inside and make your bread super soft and chewy. I confess, though, that I can rarely wait for the bread to completely cool, and if my family and I are eating the bread that evening, it doesn't matter! Enjoy!