As a tribute to the first days of fall, I always make a nice hot soup. Growing up with a Filipina mother and a Mexican father, we learned to make our soups authentic and flavorful. I share with you my favorite recipe for posole- a rich and spicy pork soup spiked with chilies and spices. I recommend a topping of traditional garnishes like cool cabbage, red onion, cilantro and tangy limes!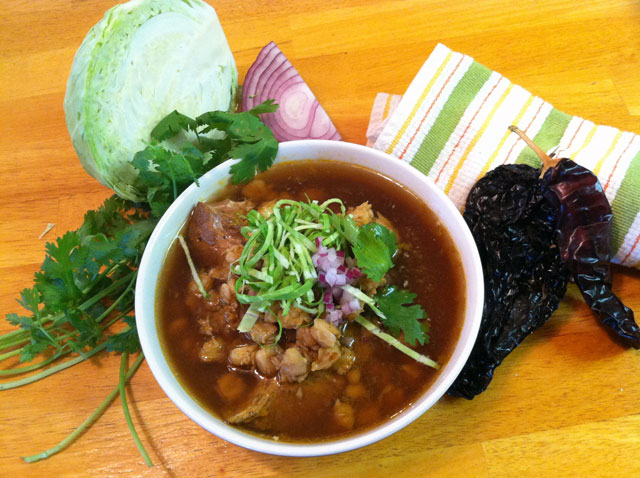 Classic Posole
Ingredients:
2 tablespoon canola oil
2 pounds boneless pork spare ribs
1 medium white onion, finely chopped
Water
1 teaspoon dry oregano
¾ teaspoon cumin
6 dried chilies, guajillo, ancho or both
½ jalapeno, fresh
1 tablespoon garlic, minced
Two 15-ounce cans yellow hominy, rinsed and drained
2 teaspoons chicken bouillon
1 tablespoon salt
½ head cabbage, finely shredded
2 limes, cut into wedges
1 cup cilantro, chopped
½ red onion, minced
Method:
In a large pot over medium-high, heat 1 tablespoon canola oil. Season pork liberally with salt and pepper. Cook until browned on all sides, about 8 minutes.
Remove meat from pot, add 1 tablespoon canola oil and onion. Sauté until fragrant and add water to cover. Add oregano and cumin and reduce heat to low and simmer for 2 hours or until tender.
Check pork frequently to skim foam and fat from surface.
While pork cooks, soak dry chilies by placing in medium bowl and adding hot water to cover. Soak for at least 30 minutes.
When softened, add chilies and jalapeno to a blender with 2 cups soaking liquid and garlic. Blend until smooth. Pass through a fine strainer and set aside.
When pork is ready, skim any excess fat and foam from pork cooking liquid and add blended chilies, hominy, chicken bouillon and 2 cups water.
Simmer for an additional 30 minutes. Season with 1 tablespoon of salt, or as needed.
Serve hot with a side of garnishes including cabbage, lime, cilantro and red onion.
Enjoy!
Do you have a family recipe that warms you up as the temperature starts to dip? Share in the comments section below!