With the temperature rising outside, it is definitely time to fire up your grill! Try this recipe for brined and grilled thick-cut pork chops. They are juicy and delicious, served alongside a sweet and sour marmalade of fresh peaches and mustard. The recipe is quick and easy, making this perfect for any night of the week.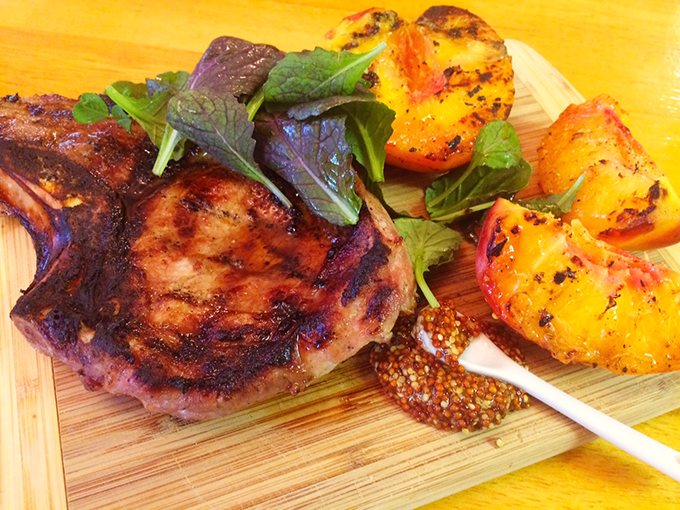 Brown Sugar-Brined Pork Chops, Peach and Mustard Marmalade
Serves 4
Brown Sugar Brine
Brown Sugar Brine
4 cups water
3 tablespoons cider vinegar
3 tablespoons brown sugar
1/4 teaspoon red pepper flakes
¼ cup kosher salt
1 tablespoon black peppercorns
1 tablespoon molasses
1 cup ice cubes
Peach and Mustard Marmalade
2 teaspoons whole grain mustard
1 teaspoon apple cider vinegar
Pinch salt
2 ripe peaches, grilled and diced small
Pork Chops
4 thick-cut pork chops
Mustard or mixed greens
Olive oil
Salt
Black pepper
In a medium pot over medium-high heat, add water, vinegar, brown sugar, pepper flakes, salt, black pepper, and molasses. Bring mixture a boil. Remove from heat and transfer to a large, heat-proof bowl or Tupperware.  Add ice cubes and stir until dissolved.
Add pork chops once the brine is cooled to room temperature. Refrigerate and allow to brine for 4-6 hours.
When ready, remove pork chops from brine and dry on paper towels. Allow to rest at room temperature while your grill heats up.
In a small bowl, add whole grain mustard, apple cider vinegar, and salt, and mix well. Set aside. Cut peaches in half and remove pits.
When grill is hot, brush the peach halves with vegetable oil and grill for about 5 minutes or until dark grill marks appear. Grill the pork chops for 5-7 minutes on each side. Allow to rest for 10 minutes before serving. While the pork rests, dice the peaches and add to the mustard mixture. Carefully toss together.
Serve the pork chops with spoonfuls of peach and mustard marmalade and top with mixed greens lightly tossed in olive oil. Serve with your favorite grilled summer vegetables.