I'm no stranger to the story of the city girl moving to the country, but I never thought that that girl would in fact be me. I had grown up vacationing my entire life in the Adirondacks, but it wasn't until my family decided to build a vacation home on the Sacandaga Lake that I really started to spend more and more time in the area. When I realized how much I enjoyed my lakeside living as opposed to the hustle and bustle of New York City, I took the plunge to move upstate New York full-time, ready to start a new life.
With a new appreciation for decorating (I sat in Lowe's after Home Depots after Home Goods with my family choosing floor boards, paint colors, furniture, the perfect "tree" picture, and almost any other design element you can think of) I decided that I'd first focus my energy on making my room feel cozy and well…my own.  No longer swooned to sleep by sounds of couples fighting outside my window, ambulances racing down the block, or the neighbors jamming out next door, I utilized my current surroundings of birds, trees, mountains, and of course the lake to inspire me.
Little by little I started creating my lakeside bedroom.  Take a look at the before:
I selected a muted gray for the wall color since I thought it would complement the darker wood floors and lighter wood closet doors/trim (not pictured here). The room was a place I would stay some weekends to escape the city, so you can see that everything from nightstands to lighting to bedding was minimal and temporary. In fact, what you see in the right corner is technically one of those wheelie desks. I laugh just looking at that thing. When I decided to live up here full time, I needed more. I needed my room to be functional, comfortable, and reflect my own personality. Shyeaaa bring on the allowable shopping.
I didn't know where to start, but knew I REALLY wanted a distressed headboard to be the centerpiece of the wall behind the bed. It's technically a knee wall so I wasn't sure if a standard headboard would fit. I found a couple of pictures that I liked and sent them to my handy boyfriend to help create.
Ok, well handy is an understatement here. My boyfriend, Brandon, is a master carpenter and actually built our entire lake house. To answer your anticipated question, yes, that's how we met. We plan to write a movie about it one of these days (haha I kid I kid).

So anywho, Brandon created my absolute dream headboard.  I seriously could not have asked for something more perfect, rustic, "perfect without looking perfect" in the whole wide world. Oh and he created an awesomely woodtastic nightstand just for me too. Both pieces are made from pine, not reclaimed wood like the photo above, and stained in what we call a barn wood stain.  I use the term "stain" loosely here because it was actually quite difficult to achieve (I'm sorry Brandon!) and takes multiple steps, finishes, and materials to complete. You can see that in the photo below: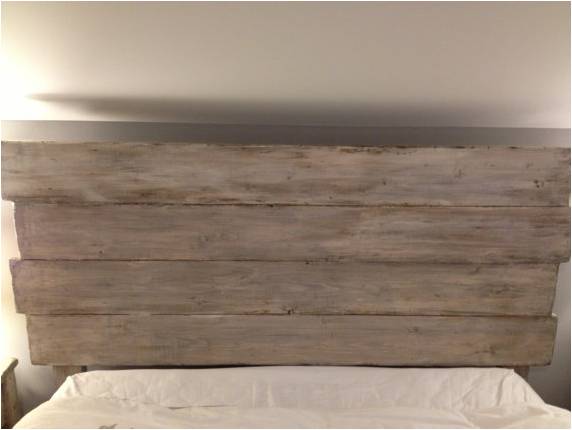 I have to admit that one of my favorite parts of the furniture Brandon created is the knob on the nightstand. He found a special rock just for me and decided it would be perfect for the piece. We all know that us girls love a nice lookin' rock, am I right ladies??
Are you yelling at the screen yet to see the end result of my bed? Ok ok, I won't make you wait any longer. Chickety check out the after people:
Headboard: Boards by Brandon/ Nightstand: Boards by Brandon/ Bed Spread: Overstock.com, similar here / Bird Pillow: Etsy (shop no longer exists, similar here/ Yellow Lamp: West Elm/Gray Lamp: here/ Yellow Lamp: West Elm/ Woodland Vase: West Elm/ Bottle Vase & Flowers: Home Goods
I seriously have Brandon to thank for my room.  Not only did he build it, but he also created my furniture.  In fact, we received so many questions on the headboard and nightstand that we decided to create an Etsy shop titled Boards by Brandon.  My headboard is the Distressed Handmade Wooden Headboard in the barn wood stain and the one that we have in our guest room is the Distressed Handmade Framed Headboard. Oh and now I deem my bedroom as famous since random people on the internet can now view it in our Etsy shop. 🙂
Hopefully some of what I create inspires you.  I still have a lot of work ahead of me so stay tuned for some more bedroom décor updates as I continue to design the rest of my room.