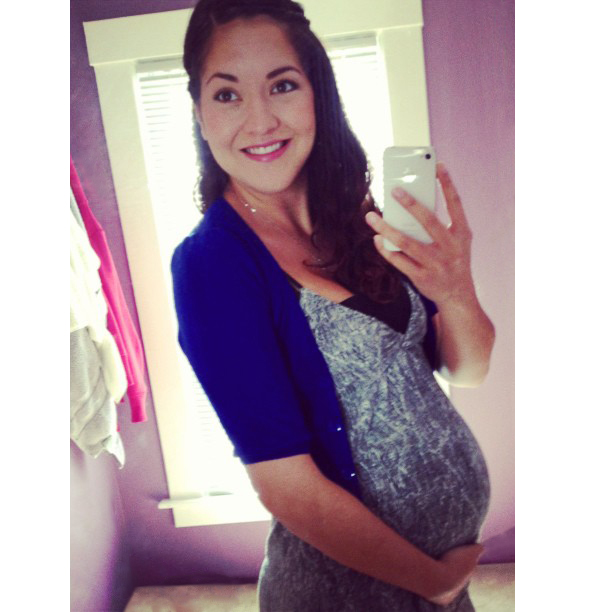 As someone who previously worked at Name Bubbles, I was surrounded by the topic of baby, parent, and child on a daily basis. I also worked with many women who were moms themselves and found it extremely entertaining hearing all sorts of stories about their parenting experience. I felt like I was pretty aware of the responsibilities and overall job description of being a parent. Fast forward to me being seven months pregnant and realizing that not only is pregnancy brain very real but there are so many things I was unaware of.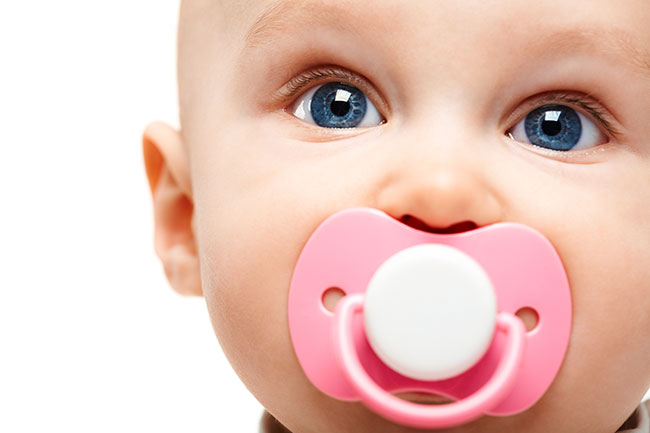 Pacifiers come in sizes?
Something I'm proud to say I was aware of is that baby clothes come in sizes based on their age in months, not saying those numbers necessarily match up with your baby's size but I digress. But pacifiers? I had absolutely no idea. Apparently a newborn's mouth and face is smaller than say a 12 month old. Who knew? In reality I just never thought about it. Pacifier sizes can come in a range for ages 0-3 months, 3-6 months and 6-18 months; these sizes are not regulated and may vary slightly between manufacturers. Some brands make only two sizes, newborn-6 months, and 6 months and up. I even found some styles that come in one size for 0-36 months, so technically I may have been okay being clueless about this one!
I really can drink eight 8oz glasses of water in a day, and then some.
Fun fact, as I typed the above title I got the undeniable urge to go grab my water bottle from the fridge. Water is just. So. Good. This may not seem that out of the ordinary to some of you but I really didn't drink water before I was pregnant, I just didn't like it. I brought a bottle if I went to the gym but throughout the day, I was more of a three (okay, four) cup of coffee kinda girl. Looking back I don't know how I survived being so dehydrated! Other than chugging coffee I basically sipped on any other beverage I consumed. I even drank juice out of these tiny "tasting" glasses I had gotten at a beer fest. These days, I can chug an entire bottle of water in less than two minutes. My water bottle must be at my side at all times, if I forget it there is no way I can pass a beverage cooler without plucking out a bottle of Dasani. It's become like an addiction, and I'm really happy about it. I have realized that with so much water consumption my skin is much less dry and I read somewhere that staying hydrated can also help keep stretch marks away.
Strollers are HEAVY!
In the beginning, making a baby registry was fun! Before we even knew our baby's gender I started a registry. I added all of the cutest items I could find, picked gear with 5 star reviews and had made the conclusion that registering online was so easy. Luckily I decided we should actually go to the store and try our hand at driving our chosen stroller around while registering for a few more accessories. This single experience at Babies "R" Us made both my husband and I feel like total dopes. How can we be so incapable of collapsing a stroller? Just how does one insert an infant car seat into its stroller companion? I thought this had "one click technology"?! After twenty minutes of pushing what we thought were buttons, actual buttons, pulling levers and attempting to use pure force to make the stroller collapse, we actually succeeded! This allowed me to demonstrate the lifting of the stroller to the back of my SUV (or a store shelf with the same height) which is when I realized that strollers can weigh almost thirty pounds. Keep in mind, this is without a baby in it. Why! I immediately removed that mammoth from our registry and realized again that I was clueless. I hadn't even thought to look at a stroller's weight in an item description. Three registry additions/removals later, my faith in stroller manufacturers has been restored. I finally found one that I can not only fold with one hand but luckily lift with one hand too, hooray!
My baby punched me in the kidney.
This one came as a surprise to me both mentally and physically. News flash people, your baby who you have so generously housed in your abdomen can and will kick you in not only the ribs, but will sucker punch you right in the kidney. I confirmed this with my doctor at my last appointment; my baby girl really did hit me there, not once but twice! Double whammy, thanks girl. It was really uncomfortable but luckily it only happened during one occasion so far.
My brain is melting.
One thing I always remember from my former co-working moms is their description of "pregnancy brain". This topic always came up and they swore after pregnancy their brains weren't the same; they became forgetful, clumsy, and generally aloof. They warned me that I would be a victim of this phenomenon, too. Did I believe them? No. Not until now when every single afternoon I stare at my bottle of prenatal vitamins and ask myself if I took my pill that morning. I stand in the kitchen with the bottle in my hand for a few minutes every day running my morning events through my head trying to pinpoint when or if I popped that horse pill. It has become so hard to remember things! Not only is my memory not what it used to be, but I have made so many mistakes by simply not paying attention. It's like my body is so focused on growing the baby inside me, my functioning has been switched to auto pilot, with no real thought behind my actions. I threw away a perfectly good block of cheese the other day, just tossed the entire thing in the trash for no reason. I grabbed a handful of ice for my drink and tossed the cubes into a bowl of pasta I was preparing instead. These days I am strictly wearing maternity jeans, but I always check if my fly is down (hint: they have an elastic waist). These moments always make me think of my own mom. I never understood how she broke so many glass coffee pots, always nicked herself while cutting vegetables and overall seemed to be the clumsiest person I had ever laid eyes on. Today, I am that person. I think of her as I pick up my keys that I dropped for the third consecutive time and realize that I am the reason she developed pregnancy brain. Sorry mom.
It may sound cliche, but it's all been worth it. I can't wait to meet our baby girl and I have been blessed with a healthy pregnancy so far. I can only hope that in a few short months my husband and I are prepared to endure smack of reality parenthood will be.