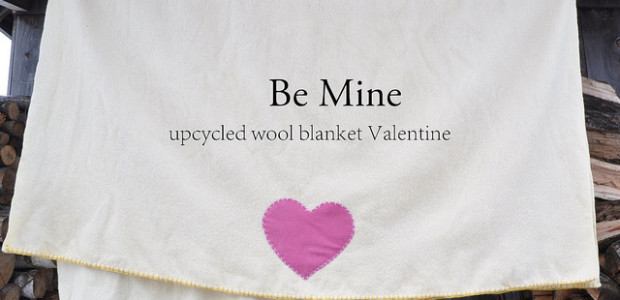 Next to the winter holidays, Valentine's Day is my favorite crafty time. The motif is generally straightforward and I love making things for my kids to wear and use – you can see some here, here, and here. Maybe it is because I grew up in California, but it has only recently dawned on me that Valentine's Day is during the New England winter , and it is always cold. It took me some time to adjust, I guess (10 years!). This is the first time I've done this particular Valentine's project, but I just  inherited two cream colored wool blankets from the "estate" of my husband's grandparents. Good timing.  After washing them to remove the musty stinky smell and drying them so they would felt a bit, I hand stitched a wool heart and blanket stitched the two ends. Simple and satisfying and it requires no sewing machine (though if you're asking me, I do feel like everyone should own a sewing machine if it can be afforded – indispensable!).
I have come across many wool blankets in thrift stores over the years and after they get a good thorough washing, they can be transformed into something lovely. They are warm and natural and a fantastic blank canvas to work your magic on.
All you need are these things:
A blanket or two
A wool heart
(this can be cut from a felted sweater or from wool felt yardage or from any washable fabric you like)
Embroidery thread
An embroidery needle
A yarn needle
Wool yarn
How it's done :
1. Cut a nice big heart and place it where you like on the blanket. I chose to sew it on using a cross stitch, but a running stitch or any other you like will work just as well.
2. Start your stitching by knotting the end of the embroidery thread and inserting the needle through the backside of the heart. This will conceal your knot.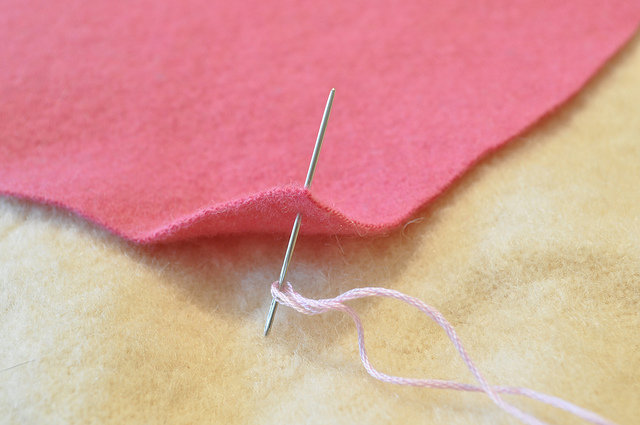 Simply make a stitch on the diagonal though the blanket then back up through the blanket a ½" or so in the direction you started from. Then make another stitch at a diagonal though the heart and blanket. Repeat over and over as you work your way around the heart.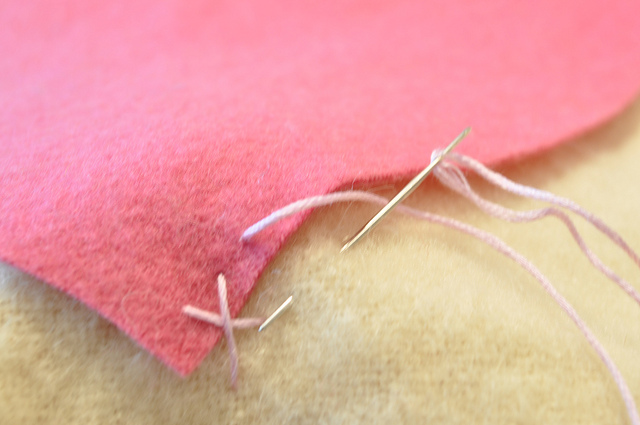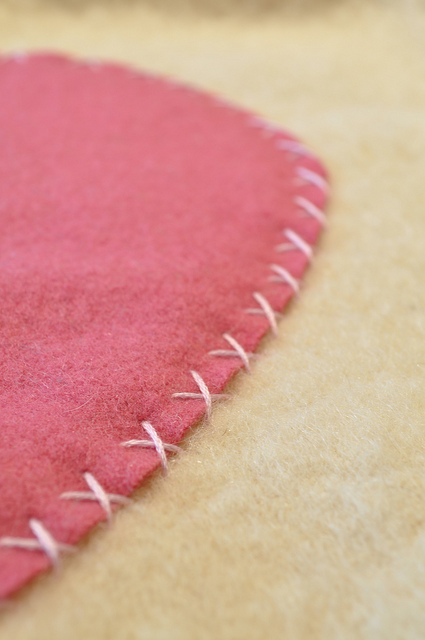 Pretty!
3. The blanket I used had stitching along two edges that was unraveling. I have also used blankets that had satin ribbon trim that was grubby. Remove anything you don't like about the blanket and decorate it the way you want it to be. For this one, I wanted a sweet color to accent the heart. I chose a mustard yellow and love the results. I snipped the thread in places, which made it easier to pull long pieces at a time – quick deconstruction. Really.
To make a blanket stitch:
Insert needle through the blanket from the backside to the front.
Catch the stitch you made previously by going through the loop created between the two stitches, then go back up through the blanket from the back. This gets repeated over and over.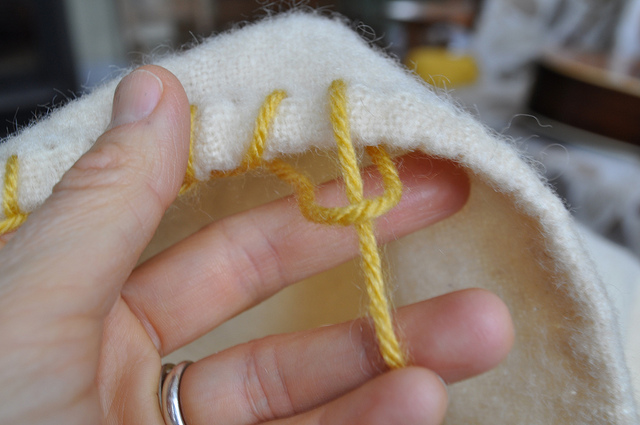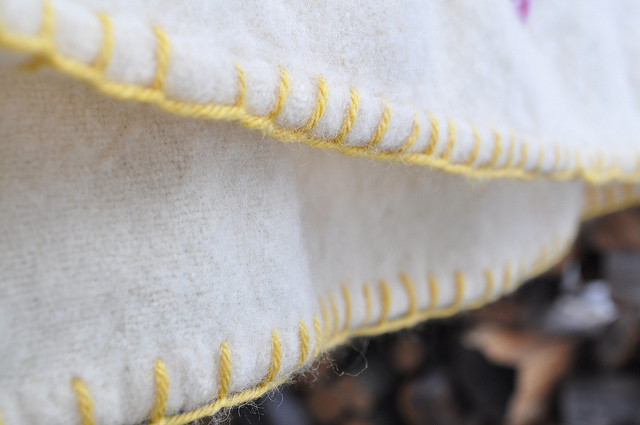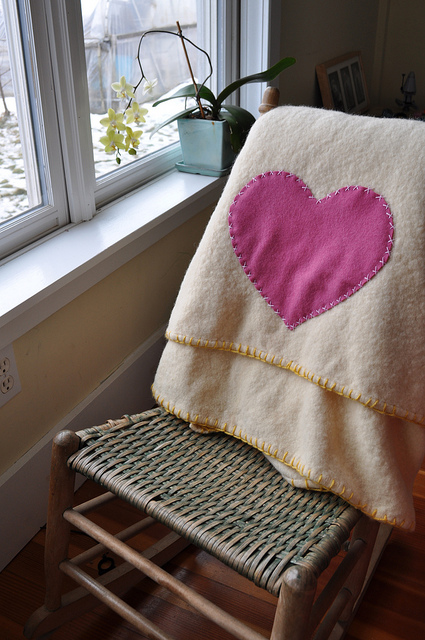 Do you have a special project you're going to make for a loved one this Valentine's Day?