We are in the thick of things in winter here in upstate New York so that means comfort food cooking is in high gear.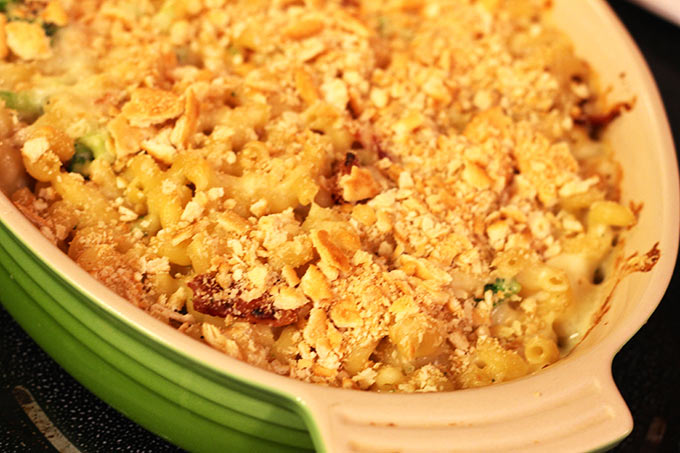 I'm a huge mac and cheese lover so I'm always up for trying new kinds. With little kids, it can be hard to sneak some veggies into their dinners, but this Bacon and Broccoli Mac and Cheese was a home run for my family. It's simply amazing. It also inspired me to try some other kinds of fun mac and cheese recipes like pulled pork or lobster. The possibilities are endless!
Bacon and Broccoli Mac and Cheese
Ingredients:
16 ounces macaroni noodles
2 cups freshly chopped broccoli
4 tbsp. butter
4 tbsp. flour
1 tsp. pepper
2 cups milk
1/2 cup plain Greek yogurt (I used Fage)
3 cups shredded white cheddar cheese, divided
1 cup thick cut bacon, cooked and crumbled
3/4 cup crushed butter crackers (I used Town House)
Instructions:
Bring a pot of water to a boil. Pour in the noodles and cook for 6 minutes. Add the broccoli and bring back to a boil and cook another 2 minutes. Drain and set aside.
Melt the butter in a large skillet. Whisk in the butter and pepper and cook for 2-3 minutes. Whisk in the milk and bring to a boil. Cook and stir until it thickens slightly. Stir in the yogurt and 2 cups cheese and continue stirring until melted and creamy.
Add the noodles, broccoli, and bacon to the melted cheese mixture and stir until coated. Pour into a large ceramic baking dish that was sprayed with non-stick spray. Mix together the remaining cheese and crushed crackers. Sprinkle over the top of the noodles. Bake at 350 degrees for 20 to 22 minutes until warm and bubbling.
To make ahead: Assemble the whole mac and cheese (minus the topping) and store in the fridge until ready to eat. While the oven is preheating to 350, bring the dish to room temperature and sprinkle with the topping. Bake for 22 minutes or until bubbling.
Note: This makes a ton! Like I was eating the leftovers for several days. This would be an excellent recipe for when you have guests (and their little ones) over!
Check out this recipe and if you want to see more recipes, visit my blog Christen in the Kitchen.