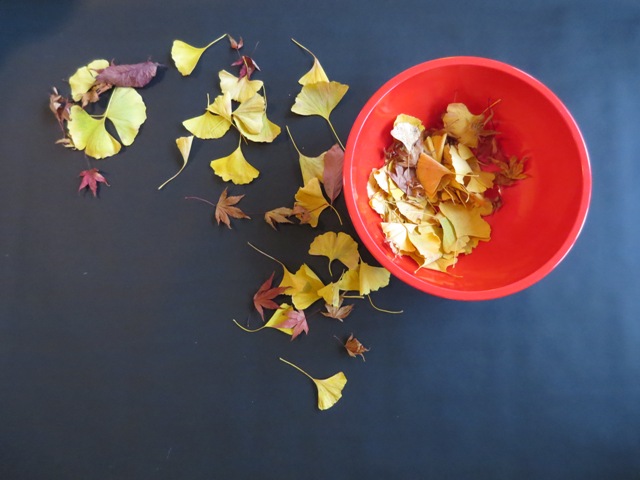 Thanksgiving is just a few weeks away and I love the idea of getting kids involved in writing thank you cards and making sure they think about the people in their lives who they are thankful for. I know we'll be writing a lot of thank you cards for holiday gifts, but sometimes it's nice to think about the people we love, just because.
One easy way to create a simple card without a lot of mess is to make a picture card using an easy backdrop made of wrapping paper.
The boys and I spent a weekend raking leaves and we made sure to save a bag of them for crafting.
I had them glue the leaves on one side of a long sheet of black wrapping paper. (I thought the black gave a trendy chalkboard look-I love the matte black rolls at Paper-Source)
Then I stuck the backdrop to the wall with painters tape and had the boys pose in front. I asked them to think about a person they were thankful for and tell me why they were thankful for that person.
I took the picture and wrote down what each boy said, then edited the picture using an app that adds words. (I used Rhonna Designs here, but I also like Word Swag and Overgram). I used the same picture for multiple thank you's and saved them to my phone.
At this point, you could print the pictures out and send them the old-fashioned way, but I love using an instant service like Postcardly that just makes them into a postcard from your phone. Or I use the pictures to make a personalized card from Treat online. (Automatic sending is so much better for me than going to the mailbox. If I hand-address cards, I often find the things we've made sitting around weeks after I actually intended to have them sent.) You could also just send an email with the photo attachment. But any way you send the pictures, I think the recipient would be totally surprised and thrilled.
We did a similar backdrop idea for the first day of school and I love how this activity serves as an adventure (finding the leaves), a craft (gluing them on the paper) and a memory not just for me, but for loved ones we send them to. The best part is the mess is minimal and that is definitely something I'm thankful for.
Happy Thanksgiving!