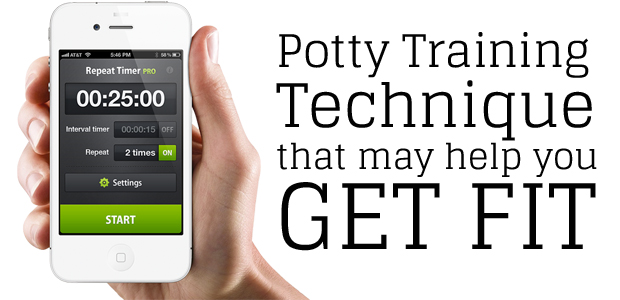 Do you get the catalog One Step Ahead? I find it ironic because ever since I brought my son home from the hospital, I have felt one step behind! He is now potty training and like most of the phases we have gone through as parents, we need all the help we can get!
Last week when I picked him up from daycare he was wearing underpants. His teacher said she set the timer on her phone for every 20 minutes… and when it went off he knew it was time to go potty. So… I set my timer… and it worked! 😉
Later in the week I was teaching one of my favorite clients in the early morning hours. I asked her if she was going to have a busy day and she commented that she would be chained to her desk writing all day. Actually, I hear this from a lot of clients… all the time.
I make a living helping people balance out their bodies from the toll their daily lives take on them. It doesn't matter if you are behind a computer or chasing a toddler all day, whatever movement patterns you repeat day after day, your muscles remember. And some (most) of these patterns will take their toll in a negative way… like back pain down the road.
I usually send my clients home with exercises they can do to supplement their time in the studio, but the truth is, I am surprised when they do them. People are busy. Plain and simple… and I get it. When you are involved in a project, it is so easy for a whole afternoon to pass by without even getting up to pee!
The message I hear loud and clear from all of the marketing experts I subscribe to (do you know about Marie Forleo? Check out her B-School!) is that success takes putting things on the calendar and doing them. I have mentioned this before on the blog…
At some point, someone (like me) has probably told you about a stretch you need, or taught you an exercise that would help you in some way. Perhaps it even crosses your mind sometimes, but maybe when you are in the car or cooking dinner. Soooooo…. when you are home or at work, why not try the timer (potty training!) technique?
Set your timer for every 30-45 minutes for just a few hours of your day. When it goes off, GET UP and take 30 seconds to do that stretch or exercise you have been told that you need. Like I said, this friendly little reminder has really worked for us… and maybe it will for you too. 😉