I have a 14 year old girl and I feel like I've been waiting for this time my entire life – I mean it. She is not my little child any longer (except when she is sleeping) but my beautiful girl leaning towards womanhood and all that will come with it. She is as curious as always, wildly creative, and going through all the things those child development textbook chapters explored about adolescents. It is scary and heartbreaking sometimes, can be pretty annoying too, but most certainly it's a pretty awesome time of life.
Because of the way we are a family and the way I am a mother, I actually thought that we would talk and talk about EVERYTHING and that my daughter would cruise right through all of the angst that can accompany a teen's life – happy and centered and easy. Something I have learned is that part of her developmental need to separate and gain some independence has also made me need to readjust my expectations and see how important these things are in order for her to learn about herself. I am not, however, going to give up on that communication piece so easily, so finding avenues we can walk together comfortably seems to be one of my main goals right now.
Recently, my daughter got the book Rookie: Yearbook One, edited by Tavi Gevinson, from the library. She's been talking about it all week and then I finally sat down to look at it and I had one of those moments that I have had throughout my children's lives – a "why didn't I have something like this when I was a kid" moment. Tavi Gevinson (who is a teenager herself) started the online magazine Rookie in 2011 because she felt like, "there wasn't a magazine for teenage girls that respected its readers' intelligence". Good start. What my girl really wanted me to read – besides all of it – was the piece written by Tavi titled, "How To Not Care What Other People Think Of You." Uh, something we all should read. It was awesome- just the right message, written with intelligence and real world awareness. I know kids can see through all of the "just be yourself" advice for what it is – ineffective unless you break it way down. How can we be ourselves when we don't know what that means? The media, in all of its forms and guises cannot be ignored as influential even to the most confident person. Having the opportunity to scrutinize and talk about the imagery and messages women are inundated with is essential for putting it in its place. And that is done in this book, alongside funny, quirky, and beautiful stuff.
What makes it so appealing? It is filled with cool fashion spreads and other fashion related pieces.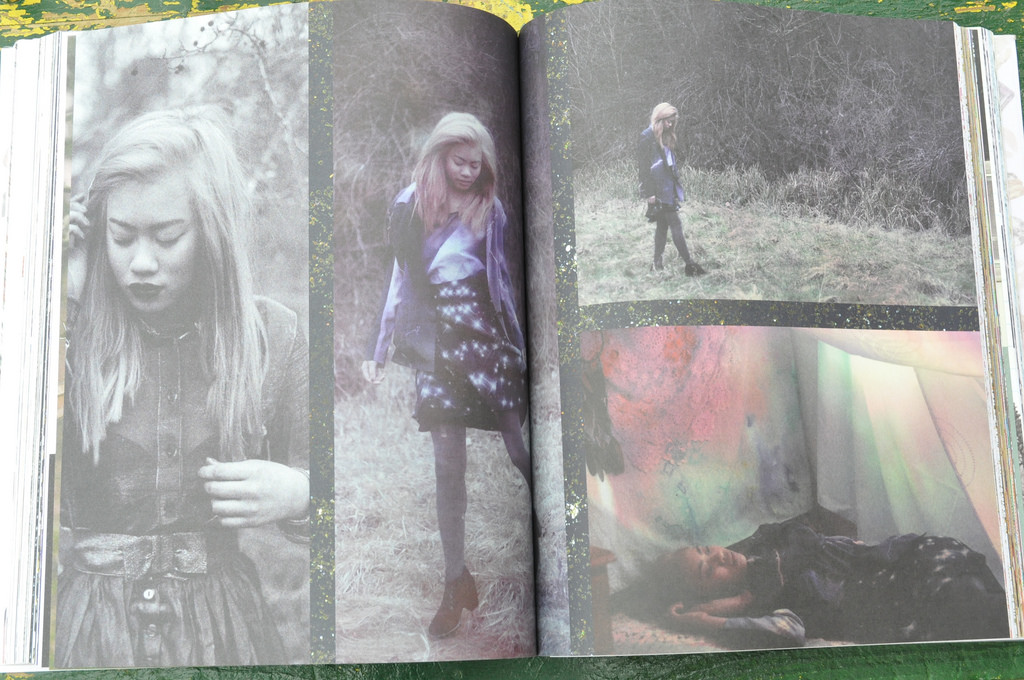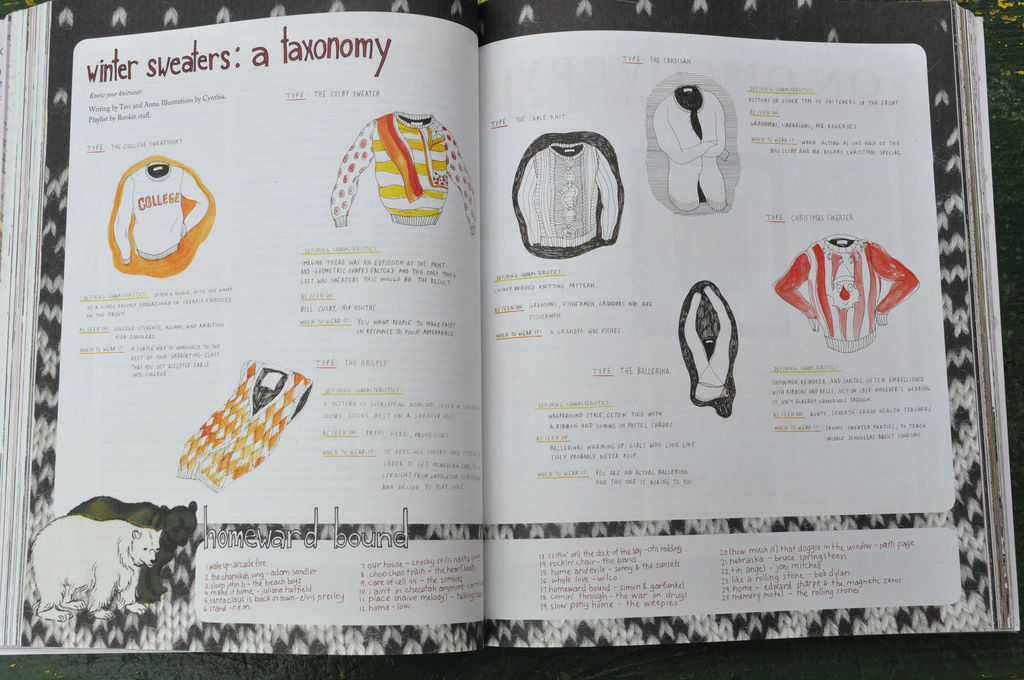 There is a lot of advice and thoughts about the things that teens go through every day. They are answered in playful and honest ways. Some of it might make parents a little uncomfortable, depending, but really, it is healthy and solid advice as far as I can see. And if they aren't asking you, then I think it is great that there is a place where things can be demystified and broken down a bit.
My daughter and I share a love for things that are beautiful, quirky and not completely mainstream. We don't, however, really share her love of certain sit-coms and I cannot help but glaze over when she starts to talk about them. You might share a love of tennis or movies, but feel annoyed by her obsession with snapchat. Whatever it is, finding a place where you can meet and have conversations about things that are important, feels essential. If you have a teen, then you know I speak the truth!
There was something that relaxed in me after reading Rookie – my worries that despite my sheltering throughout the years, my daughter was being brainwashed by the body image factory of popular cultural – those worries were tempered a bit. It feels next to impossible to avoid, really, but this book provides some seriously positive and empowering stuff for teens to relate to. It names the things that are typically worried and obsessed over – body image, clothes, dating, etc. – and shares a bunch of different outlooks. Rookie: Yearbook One (there is a Two I haven't seen yet, but I imagine it is just as good) is now my number one gift idea for all of the teen girls I know and love. Those very girls might even share it with their parents and the conversations can start up. Check it out!