Who doesn't love flowers? That was my guiding remark for my son when he was unsure what to put on his home-made card yesterday. A very good friend had a special event and I wanted Cooper to make something for her rather than a store bought version. We settled on a pansy, they symbolize thoughtfulness and love, and are fairly easy to create.
I gathered a few items that would be needed; construction paper, glue stick, and scissors. There is a bit of magic made when you create things. Also, I want my son to enjoy art and not be focused on my desired result but rather his and how he wants to work on projects. I am ALWAYS reminding myself, to stand back, and allow him go through his own creative process. I found some reference materials for him, a page from The Usborne Art Treasury on their petal collage and a nice pansy painting on the iPad for him to look at.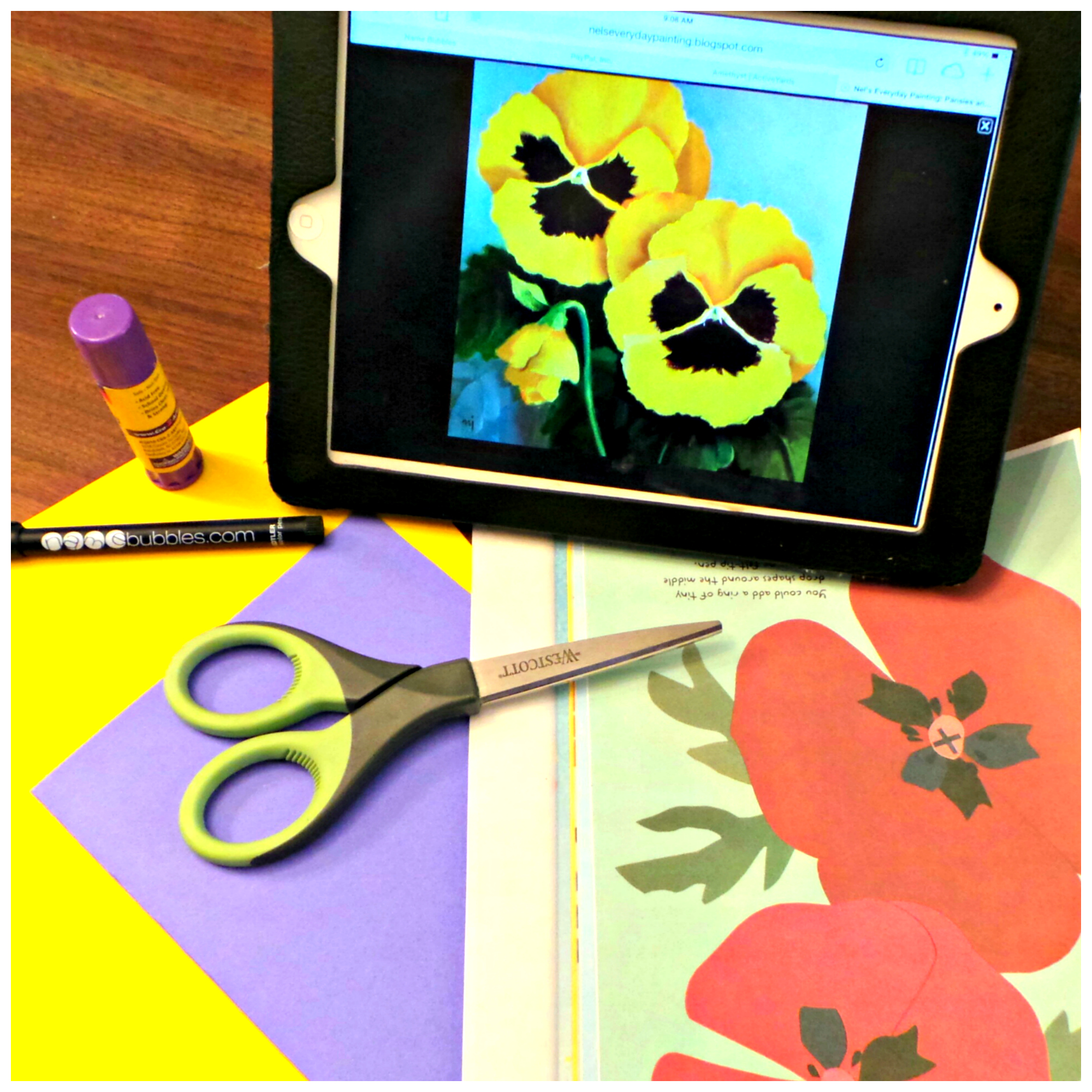 Though it is easier to fold the paper in half or by quarters to cut the petals, leaves and stems, my son wanted to fold the paper in half and cut the entire flower at one time.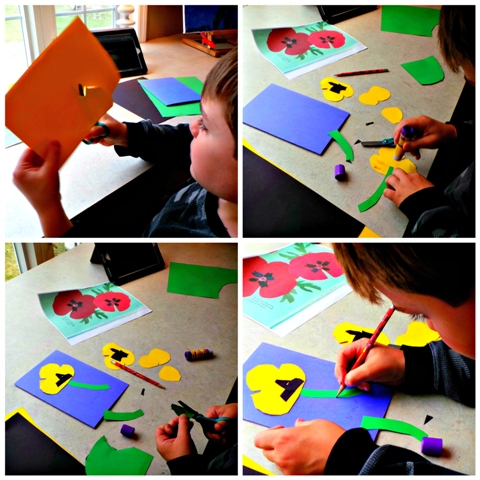 A piece of blue construction paper was selected as the card, the scissors started their work and the glue stick quickly became part of the mix. Cooper liked thick black lines and shapes for details in the petals and in the leaves. Actually, he began to draw the leaves on with a pencil and quickly changed his mind, covering it up with a leaf shape piece of paper. He trimmed the edges of the card with a decorative pair of scissors and cut a yellow square to glue on the inside and write his note.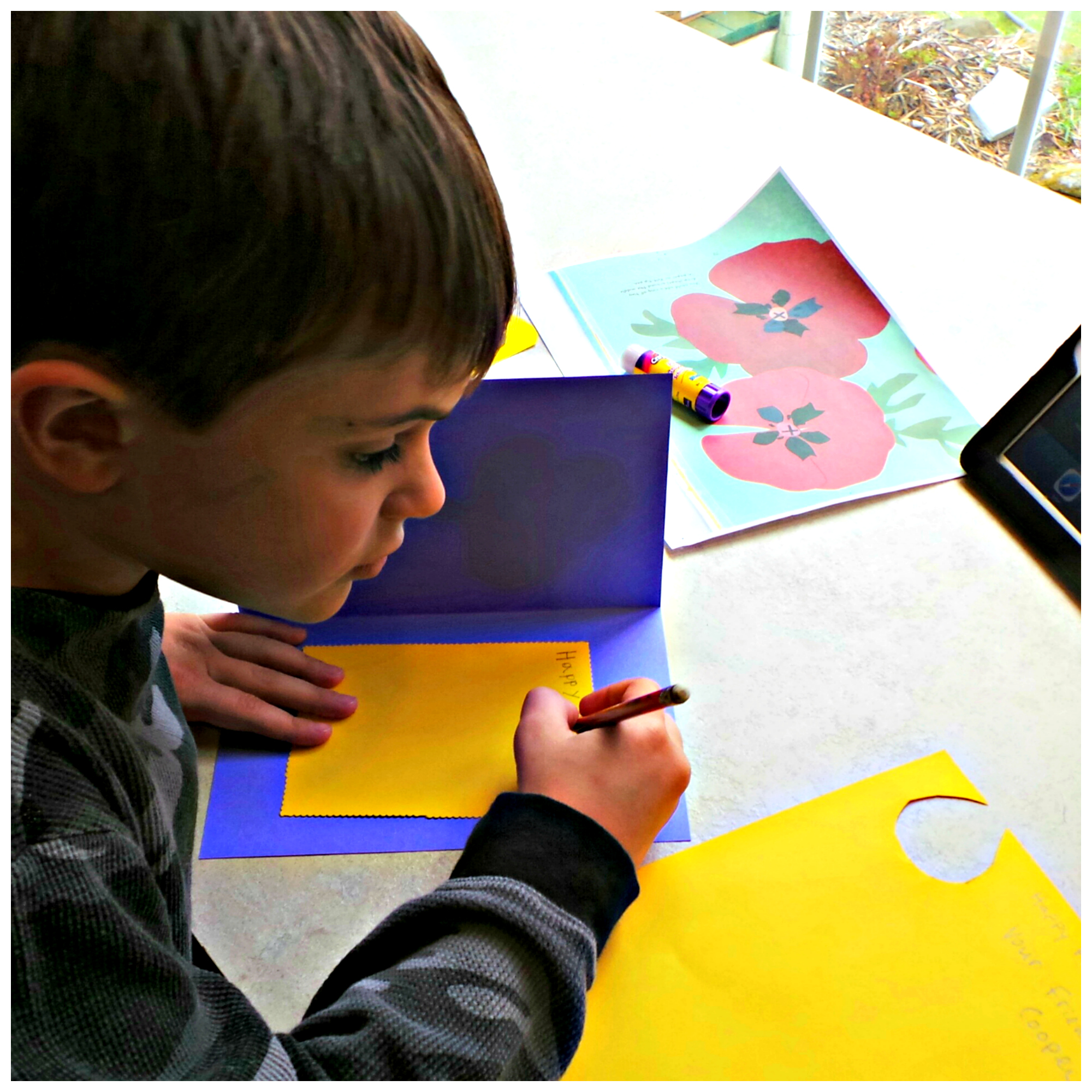 For a card like this, I do write things out ahead of time as a guide. My favorite cards are the ones he writes spontaneously to friends or for me and my husband; I still find his spelling mistakes fun. Last year, letters would be going the wrong way or the writing would trail up the side of the page, those days have already ended but I've kept a bunch hidden away for his keep sake book.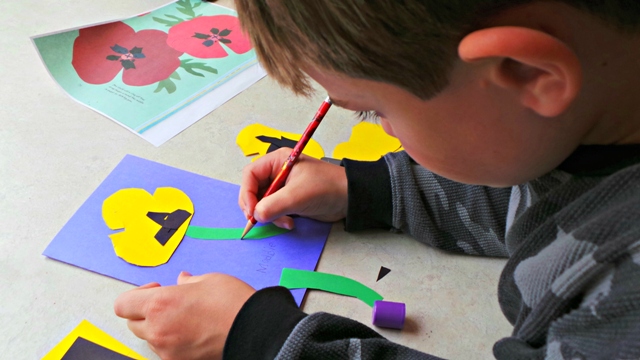 Later that day, Cooper hand delivered his card. I knew that his friend's special day held more importance to him because of the effort he made in creating something just for her. It only took about 15 minutes, but that entire time he was thinking about her and learning that it really is the little things that make everything extra special.