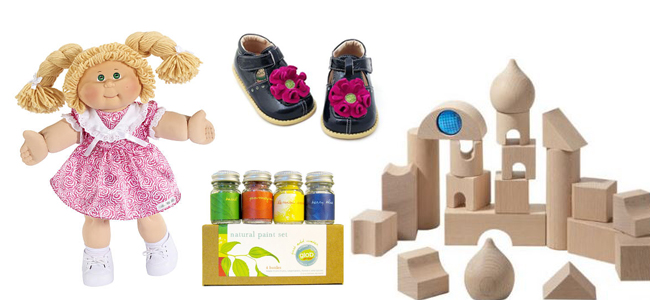 My Vintage Love Inspires 7 Back-to-Basic Toys and Gifts Your Kids Will Love
When I was just a teenager, I discovered that I found real value in "old" things, specifically what my grandmother called trinkets. Over the years, my grandmother would pass along "this and that" which I loved. Before the start of my freshman year of college, I found a vintage Vogue Magazine cover at a garage sale and from that moment on I started saving up to collect the coveted covers to decorate the bare walls of my college dorm room. During college, when my girlfriends headed to the mall for their formal dresses, I drove into downtown Syracuse to peruse the vintage shops. I distinctly recall a Madman-style pink velvet number with perfectly pointy built-in breasts.
After college, I moved to NYC to work in advertising and was shortly introduced to the art of working a tag sale. My roommates and friends were nearly all from Westchester County or Connecticut and on weekends when we'd leave the city for the weekend, we'd stop at tag sales along the way. It was during one such trip that I held my first antique salt cellar and its companion – the tiny silver spoon. It was love at first sight. Today, I have salt cellars and spoons from around the world; each piece of china and glass, and their mostly un-matched spoons, feel a bit like family.
Prior to the birth of our son, my husband and I would spend leisurely afternoons strolling through antique shops and taking road trips to flea markets downstate. My husband had been collecting antique radios since before we started dating, and we moved easily together through the stalls each searching for something "special". Aside from salts, I adore mixing vintage fashion pieces with modern classics. My two favorite pieces are both jackets, one a 3/4 sleeve cream colored appliqué with the most delightful lining and fur collar, the other a Buffalo leather front zip jacket that I bought at an Amsterdam flee market during a trip to Europe last fall. Both jackets get a lot of attention – even when paired with a pair of jeans or my Converse sneakers, but I think it's more about the way I "feel" when I wear them as apposed to how I look.
It wasn't entirely surprising that at the tender young age of seven, our son has began collecting old keys. He's found them on the street, in his grandparents' garages and basements and in old boxes and bins that my husband and I have carted around with us over the years. It's crystal clear that the intrigue and mystique that something "old" brings to present life simply runs in the family.
I'm not sure about you, but to me Vintage says simple-yet-elegant, quiet and mysterious, understated "wow". If you've ever searched the hashtag #Vintage on Pinterest, you've been transported to a time and place of a life well lived.
As the Halloween decorations were replaced by Christmas lights and wreaths, I asked myself what I wanted the holidays to be like for our family this year. The past year has been incredibly busy for us, which is probably why the only thing I could think of was "simple".
A simple Christmas.
If you've seen any of the kids toy commercials this season, there's not a lot of simple going on there. Instead, think noisy, flashy and "no imagination necessary". So, I hopped online in search of a way to intertwine my love of vintage with simplicity and a back-to-basics focus on family. I was pleased to find a few special gift ideas for the children in my life: my son, his young cousins and his closest pals. I hope you enjoy the list below where you'll find is that simple is not at all boring.
7 Vintage-Inspired Gift Ideas For Kids
Vintage-themed stockings
Land of Nod
Cabbage Patch Doll
Toys R Us / Target
Nothing basic about blocks
HABA Wooden Blocks
Classic Sorry
Bring back the board game!
 
Take a walk in style
One Good Thread
Rock on, old school style
Vintage Rock Tees
Go ahead, paint on!
Glob eco-friendly supplies

1. Vintage-themed stockings – Fill up your kids' stockings with these classic stocking stuffers from Land of Nod. They have great gifts for busy hands and minds. In fact, what child wouldn't love getting a mini Etch-a-Sketch or mini-pinball game in their stocking? Or a mini VW Bus, Gymnastic Monkey, or Origami Dinosaurs? The list is plentiful and the price quite reasonable.
2. Have Cabbage Patch Doll nostalgia? – the Cabbage Patch Doll is celebrating its 30 year Anniversary this year and both Toys 'R Us and Target are selling lovely, limited edition vintage doll. You'll enjoy sharing your childhood memories with the little gal in your life while she creates her own with this new classic.
3. There's nothing basic about blocks – I love HABA and think their wooden blocks go the distance. The award-winning company has a stellar corporate philosophy that includes quality and sustainability. These blocks need only your child's rich imagination to come to life.
4. Bring back the classic board game – Fat Brain Toys has a great selection of toys for kids of all ages, but what I really like about them is their selection of traditional board games that are perfect for family game night. Want to play the great game of Sorry? Look no further! The game highlights include "encourages family bonding, strategy, and interaction" and I can't argue with that.
5. Take a walk in style – Classic shoes for girls and boys – These mary jane petals in black patent leather from One Good Thread might be the cutest shoes E-V-E-R! I do believe that little girls should have a classic pair of shoes in their wardrobes and these darlings come in sizes 4 – 13. Boys can sport suede kicks "just like dad's" from Crew Cuts by J. Crew. Inspired by the crepe-soled boots worn by British officers in WWII, they're made from the finest Italian suede and only get better with age.
6. Rock on, old school style – Bring it on with vintage rock tees for toddlers from Band-Tees, including The Rolling Stones, Wu-Tang Clan, Nirvana and Led Zeppelin. Toddler tees go up to size 4T. Older kids can sport the same rad style from Junk Food Clothing Co. They also have a large selection of vintage sports tees that come in adult sizes, too, so the entire family can get in on the fun!
7. Go ahead, paint it on! – Get these natural, fruit and veggie paints and other eco-friendly art supplies from Glob. Their eco-friendly art supplies and natural paints are sourced from recyclable, and biodegradable materials so you can feel good about the creativity AND the mess.
Please share your vintage or back-to-basic favorite gifts for kids of all ages in the comments below. Happy Holidays!