I have just a little confession to make: I cut coupons. I feel like it's become such a passé thing, but its one of the easy ways that will help you cut $10 to $15 each week from your grocery bill. Here are some tips on how to save in the check out line each week: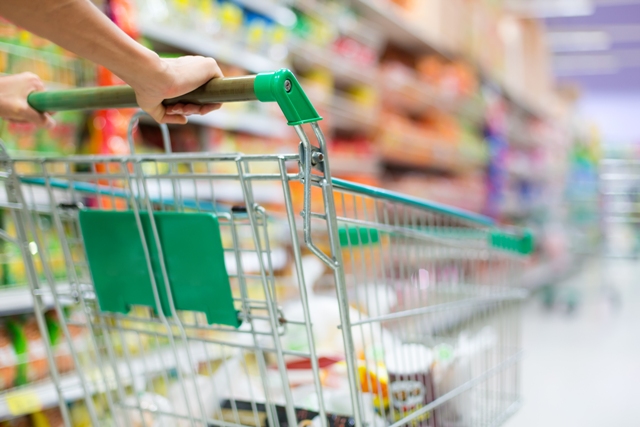 Cut those coupons! Do you get the newspaper each week? Those coupons mixed in with the ads are free money. Cut out what products you use, and just recycle the ones you don't use. Just use what you'd normally buy. If you don't get a newspaper, many coupons are available online on websites like coupons.com or directly from retailers.
Make your grocery list based on what's on sale, not what you're craving. You can easily save $20 a week by focusing your meal plan on items (especially meat and produce) that are on sale at your local grocery store. Are you craving steak, but it's not on sale? Hold off on that $12.99 per pound rib eye, and you may be surprised at how cheap it is next week. Are whole roasting chickens on sale? Roast it up on Sunday and you've easily got meals for a couple of days.
Don't be afraid to stock up when it's on sale. There are staple items in my house that when it's on sale, I buy. Those could be anything from my 3 year-old's favorite juice boxes to those lunch box staples. For example, if our favorite bread for sandwiches is buy one, get two free, then I'll grab six loaves and store them in the freezer. A big bonus because we won't need bread for at least a month! This is also the same way that my family has not actually paid money for toothpaste in last two years (always free after sales and coupons!).
Let other people do the work for you. There are awesome blogs out there geared towards saving you money. Let them find all the deals for you and just scan through and find what you'd be interested in. There are even bloggers out there who take the ads out there and combine with the coupons you can find to tell you where you could possibly get free or super cheap groceries. Some of my favorites are the Shopportunist, The Krazy Coupon Lady, and Surviving the Stores.
After you make your weekly grocery list, look for additional coupons online. A great way to save some extra bucks is to go right down your grocery list and find some coupons online. If you're getting something on sale and also with a coupon, it'll definitely be worth your while to go the extra mile for the savings.
Shop at Target for pantry and baby staples. The big-box retailer already has low prices on family essentials like diapers, baby wipes, cereal and more. They've become my go-to place to shop with their addition of Cartwheel (their app that takes an additional percentage off individual items) and then another five percent when you use your Target credit card. Cartwheel even includes deals on kids' toys, books, seasonal items, outdoor equipment and more.