It looks like Spring is finally here! If your town is anything like mine in upstate NY, on the first day that the temperature was over 50 degrees there were HOARDS of people outside soaking up the sunshine and our downtown streets have been filled with dog walkers, families with strollers, and… TONS of runners!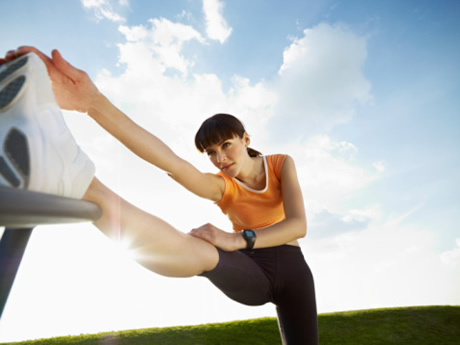 As a former high school track hurdler, I know how great you can feel after a good run and have enjoyed running on and off over the years. Of course there are a lot of people out there that train all year, running inside all winter, or even braving the cold and continuing to run outside even on the most frigid of days (I have never understood this.) However, I would argue that a larger percentage of the folks out there have not continued training, and during these first weeks of spring they are dusting off their sneaks as they lace them up for the first time in several months.
These first warm days are a reminder of the looming summer months ahead, and motivated by the sleeveless shirts or the swim suit in their drawer, these folks often hit the pavement hard right out of the gate, and pay for it. Running is very high impact on the body, and this damage has brought me a lot of clients over time. Many runners have come through the studio door looking for some kind of gentle workout they can replace running with because of the pain it has caused in their body, particularly their knees.
When there is an imbalance in the muscles around a joint it is more prone to being injured, which is largely the reason that a high impact run is often the thing that will bring on the pain.
While there is not much you can do to change the high impact nature of running itself, there are some easy exercises and stretches you could do to help balance out the legs and reduce the chance of injury. Here are 6 easy stretches and exercises you could do in 5 minutes after a run that will make a big difference in how you feel when you wake up the next day.
#1 – The "Bridge" Position: This exercise helps a lot of the issues that most people face with muscle imbalances because it will strengthen the backs of the legs and hips, and stretch the front. With your knees bent and hip width apart, simply raise the hips off the mat, pulling the belly button in to the spine and avoid letting the ribs stick out. Hold for a count of 10 if you can, and lower the hips down. Repeat 2 or 3 times. Even better if you can articulate your spine on the way up and down. If there is any discomfort in the knees or back try the exercise with the legs a little wider. If that does not help, or if anything else is sore, do not do it. This one is good to do anytime, before or after a run or on days in-between.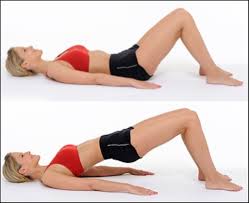 #2 – Hip Stretch: Running really tightens the hips. After a run it is a great idea to spend a minute to stretch these out! Also good to repeat this one after you cool down too, maybe an hour or 2 later. It can be done kneeling or standing, and will be a little more intense kneeling. Be sure that your front knee lines up with your toe and does not bend past it. Pull your belly button in and up as you lean forward into your hip. You will feel the stretch across the front of the hip. Hold each stretch for about 3 or 4 deep breaths. Repeat on each side. If there is any pain or discomfort, don't do this one!
#3 – Hamstring stretch: Another great stretch to do after your run. There are many ways to do this stretch. The best one to keep good alignment is lying flat on your back and using a band, towel, or strap to pull the leg towards your face. Try to keep the knee straight, but not locked and hold for 3 breaths. Repeat on each side. You should feel a stretch in the belly of the muscle on the back of the thigh.
#4 – Quad Stretch: Connected to the hip flexors… this large muscle group does a lot of the work in a run for a lot of bodies, and needs to be stretched after, or the tightness will pull on the pelvis or knee joints. Try to keep the knees together and the tailbone underneath you, pointing down to the floor. Be sure to pull your stomach in and up as you stretch and hold something for balance if you feel unsteady. Use care when pulling on your ankle. Be sure not to pull to the point of discomfort in the knee. Hold for 3 or 4 breaths, change legs, repeat. Be sure to do this one after you run.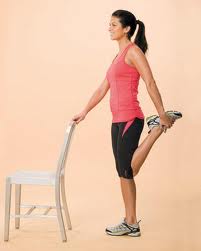 #5 – Inner Thigh Strech: Easy to forget this one, but when you see how tight they feel you will be glad you didn't! With feet together or legs to the sides, stretch gently to the point of feeling the stretch, but never force the range of motion with any stretch you do. Hold for a few breaths.
#6 – IT Band "Massage": This one will take a small investment in a foam roller. I got mine online for about $10 and I have seen them at Target and other sports stores. The idea is to get the roller underneath your leg, and roll the side of your thigh over it from the knee to the hip, slowly. You can control the amount of pressure and body weight that is used with your upper body. This will not be a nice stretch like some of the others, but the discomfort you might feel here may indicate how tight the IT Band is. In 99% of the runners I work with, a tight IT Band is common, and dangerous because it pulls on the knee joint. If you get to an area that is especially intense, try to pause and take a few breaths. See if your body will relax and release a little more. If you are diligent with this one, you will notice a big difference in how it feels (in a good way) pretty quickly. With this and any other exercise or stretch, "bad" pain is an indication that something is wrong and you should stop immediately.