A lot has happened over the past year, but once again it is Food Allergy Awareness Week, a time very near and dear to Name Bubbles. As you may know, Michelle Brandriss, Founder & CEO of Name Bubbles, has a son with food allergies and incorporated the desire to keep her son safe into one of the cornerstones of Name Bubbles products. Our friends at our local Albany FAAN chapter, fellow Bubble Blog contributes and countless customer suggestions have inspired the growth of our Alert labels into what it is today.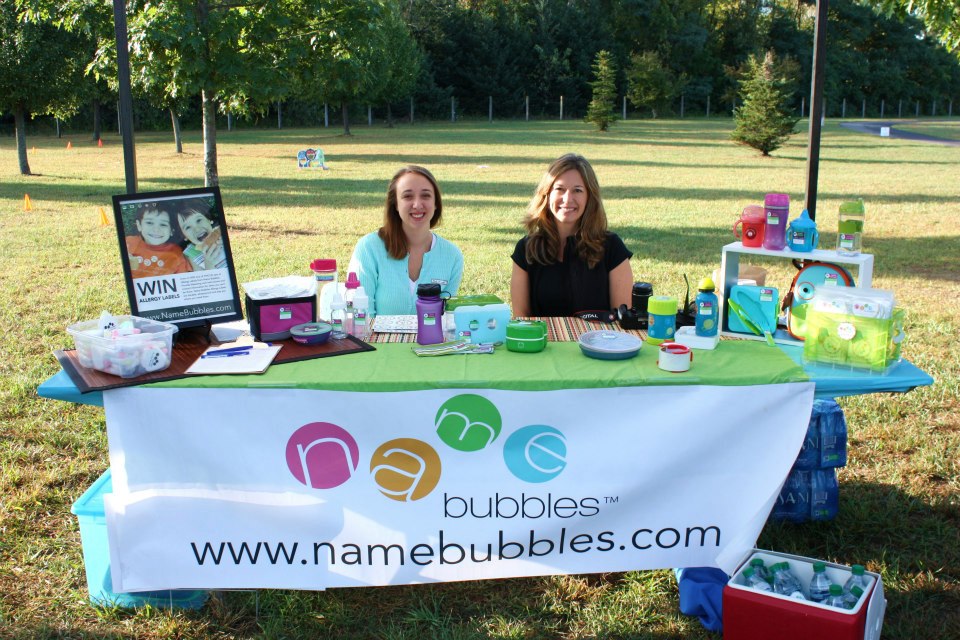 (Name Bubbles Team Members at the 2012 Albany FAAN Food Allergy Awareness Walk)
"Our Alert Labels were created from my desire to keep my son safe, and to give other parents in a similar situation the peace of mind that comes with knowing their child's labels contain important life-saving information. My son has one label on his backpack and one on the outside of his coat, and I believe these labels have helped him remember his condition and communicate it with those around him. He has become very good at asking what's in the food that's offered to him."

–

 About Our Founder,

Michelle Brandriss
Here on The Bubble Blog, we've loved the opportunity to share a number of tips & tricks we've learned over the years for handling all sorts of difficult food allergy situations. For this particular Food Allergy Awareness Week, we thought it would be nice to compile a list of helpful strategies for you that we have found useful with a child growing up with food allergies:
Toddlers
"She's growing up and now actually noticing what others are eating. "Is Mommy eating a piece of cheese? Well I want one too." Give your toddler some ownership of what they can eat and drink. Hadley has a special spot in our refrigerator where she knows that "her milk" is. When she asks for a drink, she knows that its "Hadley's milk" (which is really almond milk) and not to touch Mommy and Daddy's milk."
– Tips for Raising a Child with Food Allergies, Christen Gowan
Daycare
"Having a child with food allergies, I tend to batten down the hatches and label everything. This became very necessary with Cooper's food allergy – one of his allergies is a little unusual and is found in a lot of candies and baked foods. I wanted to be able to add all of my contact information and instructions right on the label."
– Name Bubbles Allergy Alert Labels, Michelle Brandriss
Off To School
"Know where his medicine is at all times – we keep Cooper's medicine in the same drawer in the kitchen, in his backpack, in the nurse's office at school, and at the after school care office."
"Find a bus buddy that can inform the bus driver if an allergic reaction is happening – where we live, kids are not supposed to eat on the bus, but I do keep medicine in Cooper's backpack with several allergy labels strategically placed on the outside. This is the part of his day I fear the most, the trip between school and after school care."
– 10 Ideas to Help Manage Food Allergy Anxiety for Back To School, Michelle Brandriss
School & Sports Teams
We use the Allergy Alert Labels for his school backpack, weekend ski gear, and Epi-Pen; which is with him at all times. Having his medical information front-and-center reminds his teachers, caregivers, and fellow parents that my little guy might need their help in an emergency."
– A Close Call With Food Allergies, Michelle Brandriss

Do you have any tips you'd like to share with other Food Allergy Parents? Feel free to post in the comments section below! For additional resources visit www.foodallergy.org.