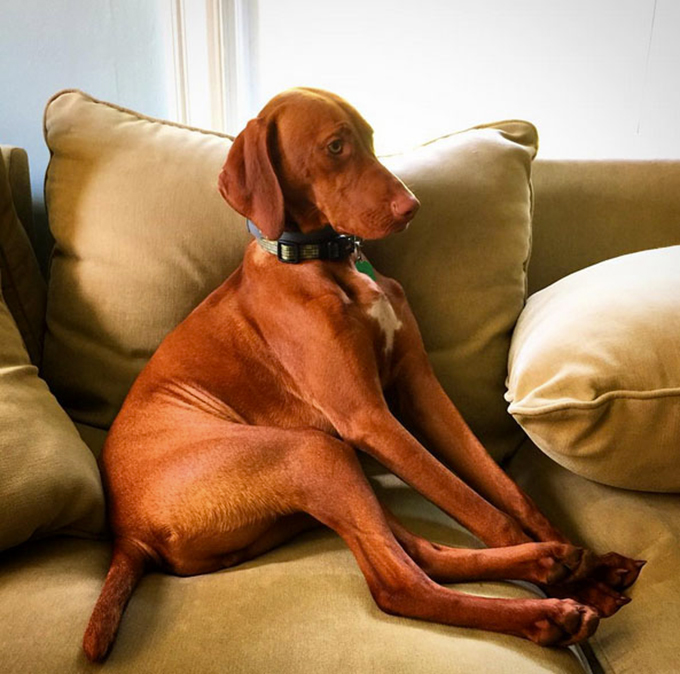 Last January, we made a huge change in our family and got a puppy. Yes, my husband and I are slightly crazy, but we got our Vizsla puppy Beau in the middle of winter and he was just 12 weeks old. Before you call us completely insane, we had a Vizsla previously and knew full well what we were getting ourselves into. With that said, we didn't have children when our other dog Sadie was a puppy, so we knew things would be rough for a while.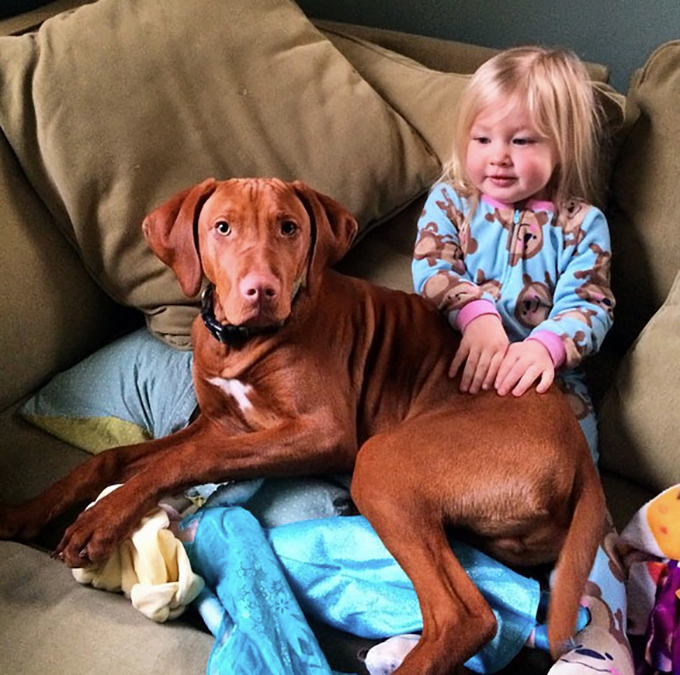 Next month, Beau will be a year old and he really is just a wonderful addition to our family. Don't get me wrong, the dog is insane. He has chewed through several harnesses, blown through two collars, and we have had our handful of "Marley and Me" moments. I don't think anyone in our family (including our two girls) would trade him for anything though. I think one of the best things about bringing an animal home with kids already is seeing their love for the dog/cat grow.
But with that said, he's certainly not perfect and there definitely has been a huge learning curve to raising a puppy with little kids in the house. Here are our 3 tips for raising kids with a new puppy and how we are keeping our sanity:
Walk, walk, walk. When you think you've walked the dog enough, go walk him some more. A tired dog is a good dog. Despite full time jobs, activities, school, etc., we do our best to make sure Beau gets out several times a day for solid exercise. He's so happy when he does, and this is an awesome time to get your kids to appreciate the outdoors.
Make puppy care part of your child's everyday routine – If you don't ask your kids to help, then they won't feel a sense of ownership over the puppy. Both of our kids are pretty enthusiastic when it comes to taking care of Beau, but I typically just ask them to do small things. If he's getting really playful (meaning nippy), I'll ask one of them to go get him a chew toy.
Prepare your kids for the rough aspects of puppyhood – Beau looooves to nip and chew on things he shouldn't. It's definitely our daily struggle of keeping toys picked up that we don't want chewed to bits. We've told both kids repeatedly to pick up after themselves or the dog will eat their toys (this motivation has only helped minorly for them to pick up after themselves).
So those are my tips for surviving life with two kids and a dog (basically, just take a ton of walks!). What are you survival tips?
Also, check out my blog, Christen in the Kitchen, for more cute dog/kid pictures and some delicious recipes!