My son will be 4 in June. It really is hard to believe how fast the time passes! Right from the beginning of my pregnancy with him I had complications that prevented me from being able to exercise and ultimately restricted me to bed rest for the last few months. As a fitness instructor, I had been curious to know what it felt like to workout during pregnancy so I would understand what my pregnant clients felt in their body. So, while it was disappointing not to be able to experience that, the good thing is that I can understand how my clients feel when starting to exercise and rebuild their strength after a non-active pregnancy and c-section, not to mention the amazing little boy I have now!
I am excited to tell you that I am 17 weeks pregnant with my second baby! So far everything has been going well (keep your fingers crossed!) and I have been exercising. Anyone that has experienced the extreme fatigue and queasiness that comes with the first trimester might agree that exercise is the last thing you feel up for, but in an effort to try anything that would give me a little more energy I got on the treadmill to walk a little and it made me feel 100 times better! I started to walk 30-45 minutes each day and not only did I get a little extra pep in my step, but it honestly helped with the nausea too!
Now in my second trimester, I have been able to keep up Pilates as well as walking, and it really feels good to keep moving! Things do feel different though, and the changes start happening very early on. Here are a three things I have researched, felt in my own body, and mention to help keep other active soon-to-be mommies safe.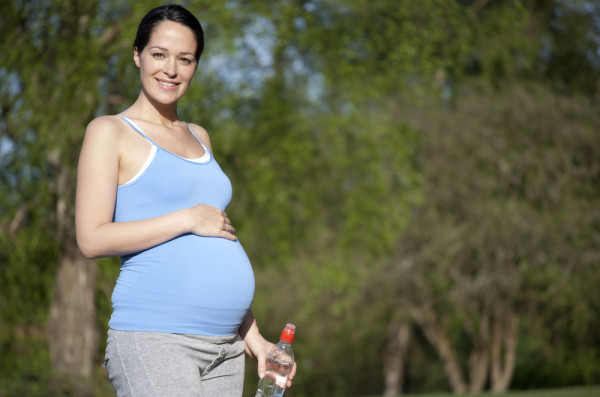 1 – Your center of balance shifts backward
During my first pregnancy my doctor cautioned me about any exercise that involved balance because she told me that already (I was only 7 weeks pregnant then) my center of balance had shifted. As I mentioned, I wasn't able to exercise, and because I was hardly moving, I honestly did not notice too much of the difference she warned me about. THIS time however, I DID notice a big shift in my center of balance right away. I have noticed on the Treadmill, as I get toward the end of my walk that it would be easy to stumble because of this and have made a conscious effort to stay focused on my body and try not to zone out so I won't fall off! My advice: Now more than ever be sure your laces are tied up tight, and when you start to feel fatigued, call it a day. The extra calories you might burn aren't worth the risk of what could happen by pushing it too far.
2 – Your joints are much looser
Relaxin, a hormone in our bodies during pregnancy that gets everything looser so the baby can fit through the pelvis, is in effect very early on. While this is not something I have noticed as much while walking, in my Pilates workouts it is very apparent to me. Right away I felt like I was in someone else's body. The connection I normally feel with my lower half especially was very difficult to find. It is now even harder! I am very in tune with what is going on with my body and it is scary to not feel like I have the control I am used to when I am moving. I know how to keep my workouts safe by using a smaller range of motion in many exercises, but I can see how easily a person could injure themselves by unintentionally moving beyond a safe range of motion without having the control they generally have. My advice: "reign it in" in the Range of Motion department in general.
3 – You heat up very quickly
For someone that is almost always cold, being warm has actually been a welcome change that has come in pregnancy (I'll let you know if I still feel that way 9 months pregnant in August!). I have noticed that my temperature rises more quickly though immediately at the onset of exercise. From everything I have read, this happens because the volume of blood has increased by so much, and the caution is to not overheat. My advice: In my case, this means I have to REALLY drink TONS of water. I was never a drink-while-working-out (unless it is my morning coffee) girl, but I have been super conscious of replacing all the fluids I am losing and then some because I really don't feel good if I don't. Not sure if this is the case for all pregnant ladies, but a little more water never hurts… as long as you know where to find the nearest bathroom!