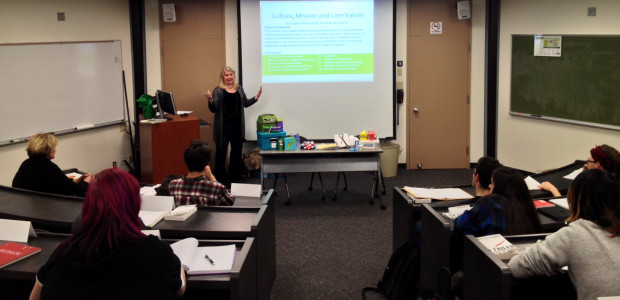 Last Tuesday, I had the pleasure of presenting to an Entrepreneurship Class at Skidmore College. As I shared the Name Bubbles story from start-up to the present moment, I notice that the students were energized and engaged and that I, too, enjoyed being back in the classroom after so many years. Standing at the front of the class giving a lecture – as opposed to listening as a student – felt a bit strange at first.  As I shared my work experience in start ups and launching and growing a company, I realized that until that moment I never really saw myself as a business person.  Time has a way of moving you along in every aspect of your life, and I was able to acknowledge how how happy I am that I had the courage to take those scary first steps four years ago.
The presentation was about the evolution of the company over the years, from initial research and testing of the product to the design and development of the newly launched website. It was the first time I had ever gone through the progression of the company in a methodical step-by-step way and it made me realize how much the company had changed and grown, and how much I had changed, too.  It felt like a 'parenting moment' – Name Bubbles is growing up. Not unlike having a brand new baby, the early days were exhausting, with many long days and late nights and the worrying never seemed to end. Of course, the flexibility of being your own boss provides a certain freedom that you wouldn't have working for someone else which is so valuable when you have a young child. I've gotten used to the sense of responsibility that comes with having employees and customers that count on me to do the right thing and deliver on my promise to make a great product. The days of being carefree and without a worry are gone (at least for now), but like the leap to parenthood itself, it was scary at first but I'm perfectly at peace with my decision. During the lecture I found myself saying something heartfelt that I've never shared before, "I like being a business woman, I am having fun."
A common theme that I shared throughout the 90 minute presentation was the importance of our customers and that providing a great product backed by superior customer service is at the core of what we do every day. We are so serious about this that last summer we chose to refuse a product appearance on a top national morning show because we were concerned that we wouldn't be able to meet the demand and not delivering on our promise could compromise our reputation.  It was heartbreaking to say "No" to such a popular television show, but our commitment to our customers was more important that than having a big media hit.
Earlier this week, I was fortunate enough to be highlighted in the Entrepreneur "I Did It" section of Women@Work Magazine, published by our local paper.  One of the standard features is for female entrepreneurs to share their "Top Ten Tips for Success". I was more than happy to share mine (below) for the articles and with the students at Skidmore:
#1 Hire key employees that complement your weakest areas. It can be scary, but they will be your best teachers. And of course, be thankful and be thankful for those around you.
#2 Learn to step back, look and think about your next decision. Quiet thought allows you to see the project to the end before you make a move.
#3 Hide the remote; everyone in the family will benefit
#4 You have to acknowledge and be the change that you want in your life (this counts for work and home).
#5 Remember the person you were at 10 years old; don't forget how it felt to laugh so hard that you ended up with the hiccups.
#6 Don't yell or speak down to people. No one likes a bully and that's how you will be viewed.
#7 Believe in yourself. If you don't, no one else will.
#8 Don't wear high heels in a snowstorm; it's self-induced victimization.
#9 Keep a copy of your favorite song in the car. If you need inspiration or have a rough day, sing it at the top of your lungs and you'll feel instantly better.
#10 Be thankful for those around you. Success is achieved from the work effort and contribution of many. Nothing truly great can be built by one person.