Standing at the grocery store checkout, my eyes bounce from one holiday magazine to the next – the ideas are dramatic, impressive, and elegant.  I then consider my to-do list and know that holiday decorating in the Brandriss home has to be fun, fast, and something that is memorable for an 8-year old child.
Most of our guests are play dates and children from the neighborhood; they are always excited to receive a warm and friendly holiday welcome. This is easily done with our Name Bubbles repositionable wall decals; I chose two Peanuts holiday themes for our entryway this year.
After removing our entryway pictures and hooks, I began positioning the decals to cover the holes  and to be centered over the secretary and entry table.
With a little playing, and a few minor adjustments of the snowflakes, I was satisfied with the Snoopy set-up and went to the attic for a few holiday touches before my husband and son returned home. I finished things off with a holiday runner, a few Christmas pictures that make their annual appearance, and my son's favorite Snoopy snow globe. And there you go – a warm beagle welcome that can be used for years to come!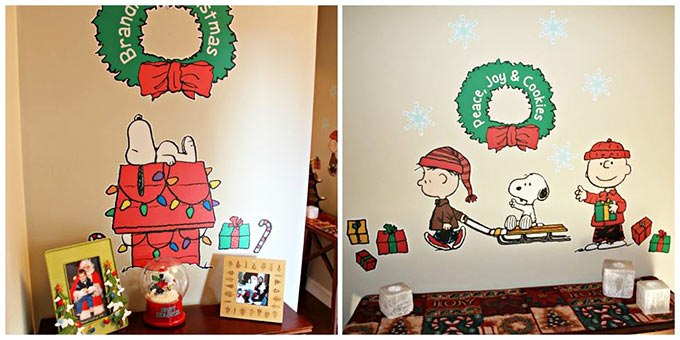 The Peanuts gang continues to be a Sunday morning tradition that has spanned a couple of generations in the Brandriss family. If you do visit, please know that there will be more than one dog sad to see you go.